Column: I love you, I guess
Student shares bittersweet relationship with hair that 'kinks and coils'
If I were to have a conversation with my hair, here is how I would imagine it going. First, let me set the scene. It's just another school morning. I have my outfit ready, and now it's time to attempt to conquer the one thing that I always leave last: my hair.
Me: Hi. (Insert awkward pause here while I look at my hair in the mirror.) How's it going?
My hair: Wazzzzzzup!! I'm just hanging out here. On your head. Like I always do.
Me: So are you going to cooperate today? Maybe let me do something other than a ponytail? You know if you'd just grow a little longer I could do a little more with you.
My hair: *laughs maniacally* You know I don't grow down. I just grow out. Don't you get it? You're BLACK. All I'll ever do is kink and coil.
Me: Not true, and you know it! Don't make me pull out the flat iron!
My hair: You wouldn't.
Me: I would. Or maybe I'll even put you in braids. Just leave you covered in extensions for months.
My hair: Now that I know you would never do. You fear the pain.
Me: Pain is beauty, honey. Speaking of, it's time to either drown or strangle you. Take your pick.
My hair: You know what, do both. Today's not my day, so it won't be yours. 
Me: The threats will never end will they? *reaches for hair gel and a spritzer bottle* 
My hair: So what are you planning on doing with me today?
Me: I have no idea. Let me just part you first.
My hair: I'm parted. What next?
Me: French twists into puffs? That always works.
My hair: Can't you ever think of something original? It's always the same thing with you. It's either a ponytail or french twists into two puffs.
Me: I don't like you much right now. 
My hair: *cackles*
Me: *mutters* Time to try a new tactic. *aloud* What if I told you I loved you? I mean, I do, I guess.
My hair: What is love really? Is love making me look all pretty or is it just letting me be?
Me: Hmm. Good question. 
My hair: Why don't you just pull out some of that shea moisture and let the bangs out? Maybe leave everything out of a ponytail?
Me: Not a bad idea. I like where you're going with this. *pulls out the myriad of Shea Moisture products I have at my dispense*
"
What is love really? Is love making me look all pretty or is it just letting me be?"
— My hair
My hair: I'm a little dry today so add a little more of that conditioner than usual.
Me: You're the boss. *under my breath* even though you shouldn't be.
My hair: What's that you say? You know I could have made you spend an hour flat twisting me last night, but I didn't. 
Me: You're right. Of course, I'm ever so grateful. 
My hair: Now, don't I look great? Look at me in the mirror. 
Me: Not bad. Not bad. What about adding some of these barrette clips we bought? We could try something new.
My hair: One thing at a time. You don't really know how to manage me yet. I've been straightened or in braids for awhile now. Just let me be, please.  
Me: What about just one barrette clip?
My hair: Fine. Try it. Just don't get upset when I tell you I told you so.
Me: It looks bad.
My hair: I. Told. You. So.
Me: *sniffles*
My hair: Quit the tears. I look great, you look great. Let's go.
Me: *checks my phone* Dang, you're right. Even though we look great, I don't want a dramatic entrance because of tardiness this morning. Just try not to flatten yourself in the car.
My hair: Will do, honey.
View Comments (3)
About the Writer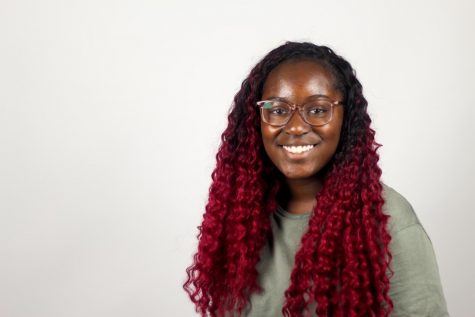 Suvwe Kokoricha, Staff Writer
Senior Suvwe Kokoricha was once the jack of all trades and master of none. She tried everything from soccer to painting lessons to spelling bees (you can...