Column: Say yes to adventure
These past 11 days I've had the honor of spending every minute with about 50 other art enthusiasts in the beautiful country of Spain, and now all I can think about is going back.
When I found out about the art trip to Spain, I was beyond excited. A week and a half in another country filled with breathtaking architecture and beautifully different culture. My parents told me that this was an opportunity I couldn't turn down. With college approaching and only a few months left before legally being an adult, when would I get the chance to travel overseas again?
It would be a while.
So we went to the first meeting and I wrote down my name as an attendee. I was thrilled. Pinterest boards were made, and sketchbooks were packed.
But it wasn't until travel day, March 6, was only a week away that the fear struck–I was going overseas. With only a handful of people that I really knew. To a country that spoke another language and had a different currency. So much could go wrong.
I could lose my wallet. I could lose my phone. I could lose the group.
Even with overwhelming reassurance by each teacher chaperoning us that EF Tours, the company scheduling our trip, took every measure to make sure these things didn't happen, I still had these thoughts.
And then it was March 6. I put my suitcase in the car and we drove to the airport at 9 in the morning. After a goodbye to my parents and the next 16 hours on a plane, I was officially in Barcelona, Spain.
I can't explain why, but the second we entered the Barcelona airport, my fears washed away. All I had was overflowing joy and excitement. The beauty in the atmosphere and the culture was amazing. The streets were filled with people, food markets decorated alleyways, splashes of vibrant color layered each new building. Everywhere I looked there was something new and wonderful.
We immediately got on a bus and started on a tour of the city of Barcelona. None of us cared about how sleep deprived we felt.
This trip easily changed my life. I made so many new friends. I saw so many architectural beauties. I stood in front of the famous Guernica painting by Picasso and admired it for seven solid minutes. Even now, I can still see the paint strokes in my mind.
We spent each day in a new area. Our tour guide, Louis, made sure to show us every part of Spain he could. He was with us from our arrival in Barcelona to our departure at the Madrid airport. Though I didn't speak to him personally, I am so grateful for all he did to make sure our time was well spent.
My phone simultaneously holds too many pictures and not enough. I wish I took more, but I'm glad I didn't. Because whatever I don't have photographed in my phone I have captured in my mind.
We got back on March 17 and I'm already planning on returning. I'm glad to be home with my family, but I'm eager to experience more cultures and locations.
This trip taught me that any opportunity to travel abroad is 100 percent worth it.
Because sure, there are a lot of things that could go wrong. But there are always so many more that could go right.
About the Writer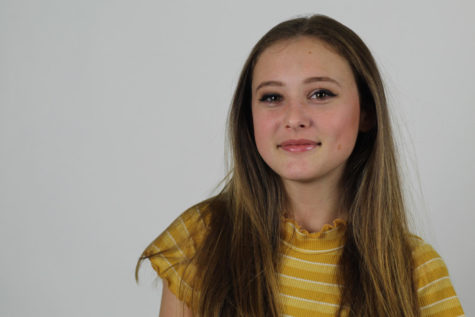 Abigail Lund, Staff Writer
Abigail Lund is a senior at Lovejoy, and this is her first year in The Red Ledger staff. She recently moved to Texas from Mississippi in January and is...