Column: Unity amongst minority
Senior Nnenna Nchege shares her views about the Black Leopard Society club
Seeking to provide unity and a safe space for African-American students, last year three seniors founded the Black Leopard Society (BLS). I was assigned to report about the club, and I was eager to get started.
In the article I wrote almost a year ago, I mentioned comments made about the club and how some people thought it to be "racist" to form the club. And still, some of those same remarks are circling around the school. As president of the club this year, it's disheartening to know negative thoughts are still being associated with BLS.
There are non-black students referring to the club as a "gang" or "cult" and judging our intentions when they are not aware of what we do.
BLS is a space where African-American students come together to promote unity within our small community of minorities in our school. Topics that affect our community are discussed at meetings.
I consider school to be a safe place where all students can come and be themselves. And from personal experience, Lovejoy has provided that to the best of its ability. However, as a minority, it's always great to be able to come together on good terms with those who are a part of the same underrepresented group.
It's ignorant to claim that there should be a "white club" or a group for white students when the majority of our school is Caucasian. I don't understand why people are not recognizing why we, the black community within our school, find it imperative to have this club at our school. It's OK to ask questions, but to judge our intentions is disrespectful and inconsiderate.
In the same fashion, there were some concerns about our club name. "Black Culture Society" ran as the name in the first story I wrote, due to the fact that there were some concerns with the original club name, "Black Leopard Society." People were wary that the club's name was too similar to the Black Panther Party. Yet I don't think our founders intended to start a political party within our school. The club name has since been changed to its original title, Black Leopard Society.
There are no subliminal messages through the group. The club was never intended to exclude anyone but to simply bring a community together. However, anyone, of any race and nationality, is welcome to join our club.
Some people may believe that BLS was founded on bad terms, that the founders decided to start the club in response to some bad occurrence. But that's not true, by any means. BLS has not created out of spite or for revenge but out of a desire for unity.
When I first came to Lovejoy as a freshman, I witnessed an obvious lack of diversity but even more of a lack of unity within those underrepresented groups. When BLS started, I was excited that people were taking action to change the lack of unity and representation in the black community at our school. But to know some view BLS differently and think we would come together just to put others down when we are the minority group is demoralizing.
My hope is that the people who have had negative things to say about BLS stop and take a second to think about the why behind our club. I hope people can understand why it might be important for a minority to have an opportunity to be a part of a group such as BLS, to be a part of something bigger than themselves.
I encourage anyone who is concerned about the motives of BLS to attend one of our meetings after school or one of our monthly outings. There have been non-black students to sit in on our meetings before, and we were eager to welcome them into our space. Although we often talk about race within our club, BLS is, simply put, is a time where we come together to get to know each other better. Students are just looking to connect with more people whom they might be able to relate to.
About the Writer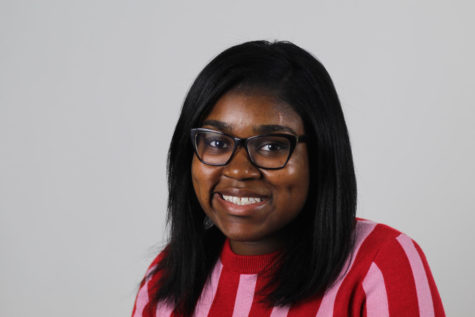 Nnenna Nchege, Staff Writer
Senior Nnenna Nchege is entering her second and final year on The Red Ledger staff. As Nnenna prepares to end her journey at Lovejoy, she is proud to spend...