Leopard Look: Big Tex
Editor's Note: The following dialogue from State Fair of Texas figure Big Tex is fictional but accurate. The complete history of Big Tex can be found at https://bigtex.com/about-us/big-tex/.
At a Glance:
Favorite boot brand: Luchese
Favorite Fair activity: People-watching
Catchphrase: Howdy folks!
Height: 55 feet
Age: 66 years old
Looking Deeper:
The Red Ledger: How long have you been welcoming guests at the State Fair of Texas?
Big Tex: I've been on this job for over 65 years now after I took up the position in 1952. But before the big move to Dallas, I was considered the world's largest Santa Claus in Kerens, Texas.
TRL: What was it like being Santa Claus before Big Tex?
BT: During the 1949 Christmas season, I was a hit to the Kerens, Texas locals, and I even boosted Christmas spirit and sales that year. However, State Fair of Texas officials purchased me in 1951 for only $750 to support their ad campaign, and I was transformed into the cowboy you see today.
TRL: What's the best part of the job?
BT: It's been an honor to photobomb just about everyone's photos every year. Being 55 feet tall does have its perks.
TRL: What's the weather like up there?
BT: Of course, my 95-gallon hat is able to block most of Texas's summer sun, and I haven't gotten sunburned once if we skip over my incident in 2012.
TRL: Does it ever get boring standing in the same spot every year?
BT: Not at all. At my height, I can hear music from the Chevrolet Main Stage, listen to the crowd cheering over at Cotton Bowl Stadium, and scope out the best places to eat all at once. There are new people at the fair all the time, so all the company sure is nice.
TRL: Where do you go during the offseason?
BT: Sadly, when I'm done watching over the visitors of Fair Park, I sit dismantled in a pile, dreaming of the amazing things I'll see next year. With my arms and legs stacked up in front of me, I can only wait solemnly and imagine what will become of the State Fair of Texas 2019.
TRL: Are there any new changes fair-goers should look forward to this year?
BT: If anyone looks closely, they'll notice I got new boots this year. Size 96 and 12 feet long, they really complete the outfit. I can't wait to stand in them for many years to come!
Leave a Comment
About the Writer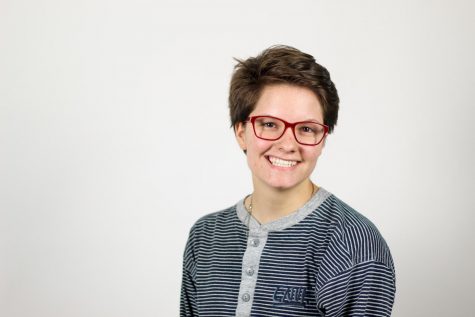 Kelsey Carroll, Section Editor
Senior Kelsey Carroll has never owned a dog or a cat, but she's the proud caretaker of two mini cacti living their life on her windowsill, and she thinks...