Column: Battling betrayal
'I never thought I would have to say Me Too'
Hang on for a minute...we're trying to find some more stories you might like.
I trusted you.
We were friends, and this is how you treat me?
It doesn't even feel real.
I never thought I would have to say, "Me too."
It all happened so fast. One day I was on top of the world, but then the next day it was all gone. You took it away from me. When it first happened, I didn't realize how serious it was. I needed someone to pinch me because there was no way this is my life. It was like something you see in the movies, and now I was living it.
I wish I could turn back the clock. I didn't want to find out. I wanted to continue living my life as if it was normal. I didn't want to tell anyone. Sitting at the police station, my heart was racing as I wondered if I was doing the right thing.
I wanted to see the best in you. I stayed up all night trying to come up with a reason as to how you could do this to me. And when I finally accepted it, I began to think back to when I first met you, almost two years ago.
Have you been doing this for two whole years? I'm trying to not let this affect my life, and I'm trying to smile through the pain. But the hardest part is not knowing. I just need to know the truth. I want to see you suffer the way I am. I need you to feel my pain.
I've deleted your contact, all the pictures I have of you, but I can't delete the memories. You made me feel stupid. How could I not know? How did I miss the signs? But my biggest question is, how you could hurt me like this?
I was sad for a while, then angry, and now I'm hungry for justice. I will fight this battle because, unlike you, I have an army behind me, and we won't give up. And I know I will have to face you and know that when you look at me, you're seeing what's underneath my clothes. But that won't stop me from doing what's right. If we don't win this battle, you will have the chance to do this to another innocent person, and I'm determined to not let that happen. I want you to know that I never asked for any of this, but since you started it, I'm going to finish it. Your biggest mistake in life was hurting me and my friends.
People tell me they're proud of me for coming forward. But I don't want praise. I want you to pay for what you did. I will not hold back, and I will not be another stereotypical sexual harassment victim who doesn't talk.
I could take the easy route and cry at home about how you betrayed me, but that's not who I am. I know I will get past this, but first I am going to make sure you never forget what you did to me.
This is war, and I don't own a white flag.

About the Writer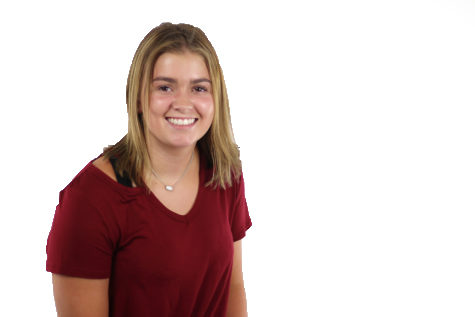 Katie Felton, TRL Reporter
Senior Katie Felton, a four year Red Ledger staffer who suffers from severe senioritis, cannot wait to be done with high school. But, since she is stuck there until June, she is determined to make her last year her best year. As a part of making the 2017-2018 school year the best one yet, Felton created her schedule only with classes she enjoys going to, such as newspaper and art. Sadly, she was forced to include core classes. Newspaper has been a passion of Felton's since middle school when she was one day added to the class, and she's been a part of it every year since. Along with a love for journalism, Felton also has a soft spot for art– sculpture, to be exact. If she is not at school, she is probably working or with friends, as she's not a big fan of sitting at home and doing nothing. Even though Felton already has one foot out the door, she adores newspaper, and it will be one of the very few things she will miss from her years at Lovejoy High School.