Column: A letter
Learning through loss to speak up and love others
Hang on for a minute...we're trying to find some more stories you might like.
To my friend whom I barely knew,
I didn't realize I cared about you.
I didn't even realize I knew your name.
Until I read it, the word "prayer," and "suicide" in one sentence.
I remember you rode my bus last year. You had a lot of energy. You seemed popular. You loved to scream, to laugh, and even to aggravate. You reminded me of my Italian family in that way. But I don't ride the bus anymore. I don't see you anymore.
So I thought of you when I happened to drive by as the woman who found you screamed at men in badges. Some of them ran from their police cars toward her. Some unloaded a stretcher. She jumped and waved them into the backyard as if she was watching them in slow motion. She wanted them to come faster. To save you. I saw her face as she cried for you.
She loved you so much.
When I heard you were gone, I could not believe it was you. How could you be gone? Would I ever see you hop from seat to seat on the bus again? I know you couldn't sit still. Would I ever hear your voice again, no matter how loud you screamed? I know we asked you to quiet down, but I would give all I have to know your family could hear your voice again.
As I cry tears of sorrow mourning for your lost life, and I reach for a pillow, anything, for comfort, I am wishing I could hold you instead, and I am wishing you could hear my muffled words, "I love you." I couldn't understand that you believed the lie that nobody cared for you.
I wish I told you that you were young, and that you had everything going for you, and that there are so many people who wanted to help you. That I could help you find someone.
The awkward look you would probably return to me seems more like a blessing I missed out on than any obstacle it posed to me.
I wish I sat next to you on the bus and asked how your day was. Maybe you would say "good" every day for 364 days, but maybe on the 365th day you would tell me what you were really struggling with.
Maybe when you thought you were alone, I could have been one more person to you who made sure you weren't.
I have no idea what you have been through. What were you thinking that you couldn't bear? I can never understand.
But my heart breaks trying.
So to my peers,
It doesn't have to be over for you. Know that my heart reaches out to each and every one of you, and I have no words to express the love you each receive.
The fact that there is almost nothing I can tell you now that will save some of you is such a heavy burden on my heart, but the chance that I could help just one of you is the reason I will not hold back now.
I know I must love freely now and bury any shame, branding it as insignificant in order to fight for your life.

About the Writer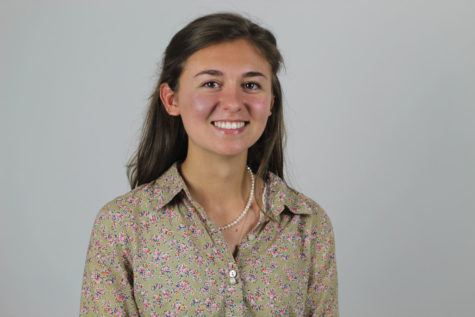 Lily Hager, Editor in Chief
Lily Hager is a junior and has been learning how to write for the community through newspaper since the seventh grade. Her third year of The RedLedger is also her first year as one of the Editors-in-Chiefs, along with Madeline Sanders. She's always down to meet new people and skip the small talk. That's why she made it a priority to double block newspaper this year- to know every staff member. Because for the past 5 years, she hasn't just fallen in love with journalism. She fell in love with the staff she writes with, too. When she's not in E103, the newspaper room, she's in the band hall as one of the drum majors. You can catch her at every football game on a podium "waving her arms around," as some people call it. It's the little things that can make her day. Lily starts each morning by greeting her pet rabbit, Boots. She feeds two fish, Ryder and Rosy, and waters her 15 plants (and counting), all before leaving her bedroom. When she doesn't stay up too late writing, editing or finishing homework, she may start her day early with a Bible study or delicious breakfast. As an editor, she wants to make the website the best it's ever been. She has big shoes to fill, but she is so confident in the strength of this year's staff. She will use each day to help provide the school with a reliable, timely and interesting publication.