Updated: Tax ratification election voting to end May 21
District: Increase needed to offset loss in state funding
Editor's note: this story is continually being updated as the election unfolds.
Spring has brought an influx of rain, AP testing, and more recently, voting signs emblazoned in red that stand either "for" or "against" the proposed tax ratification. Voting ends Saturday, May 21, and if passed, the district says the TRE will help make up for the district's financial losses, as well as increase teacher salaries, since the state took $2 million from the annual budget in 2011.
"We lost 2.8 million [in 2011] and they only gave us back 700,000, so that put us 2.1 million in the hole," superintendent Ted Moore said. "So every year since, our state funding has been two million dollars less than what it should be. Now we are in a place where we need to plug that two million dollar hole. There are two ways we can do it. We can have the taxpayers agree, and it's their choice, that they can vote and we will raise taxes 11 pennies, which will bring in about 2 million dollars, so that gets us back even and we can keep everything we've got."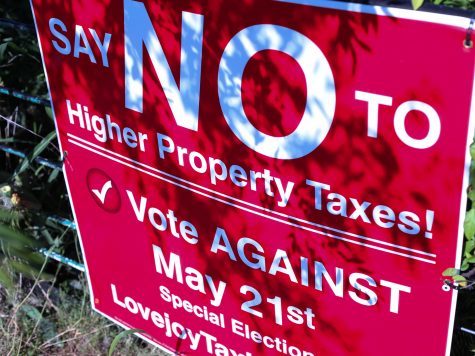 The TRE would increase the Maintenance and Operations tax rate by 11 cents, from $1.06 to $1.17.
If the TRE does not pass, Moore said programs may have to be cut including middle school soccer and wrestling, limiting travel stays for academic and athletic competitions, reducing STEM offerings below the high school level, and eliminating the elementary assistant principal position. Among other things, teacher salaries will also not be raised if voters do not approve the tax increase.
"We have to approve a budget for next school year by June 30 and we are locked into what we are going to pay teachers next year," Moore said. "So we've got to develop a budget. We've got to inform teachers on how much money they're going to make. Really, we surveyed the districts around us, and all the districts around us are planning to pass along somewhere between 2.5-3 percent raise to all of their teachers, so we want to keep up so that our teachers are making as much as teachers in surrounding districts."
An opposition group called "Lovejoy Tax Hike" has formed a website and posted signs around the community, claiming that the school's financial situation is a "spending priority issue."
"Lovejoy Tax Hike supports our students and teachers, but with consideration for ALL taxpayers," the political action committee said in a response to an email. "An analysis of the current revenues received by the district show there are sufficient funds to give teachers a raise. We believe ALL taxpayers should have been notified of this election because they are the ones who will pay."

Loading ...
In contrast to its opposition group, the district's TRE page maintains that the school cannot increase teacher salary without a tax increase.
"Even though our taxable values are growing, the State of Texas uses a "Hidden Robin Hood" method so that the State benefits from those increased values," the district page says. "For each dollar of increased local tax revenue, the State of Texas Reduces our state revenue by one dollar."
Ultimately, Moore said, the 2016-17 budget is in the hands of the community.
"This is just the community's choice, and I respect people's right to vote in whatever way they feel is the best interest to the community," Moore said. "I just want people to know that it's their vote and their choice. Whatever the community chooses to do, I'm going to have a happy heart about that, I'm gonna respect that, and then we're going to have to to what we have to do to live within the money that we've got."
Early voting locations and dates can be found here.
More information from the district about the TRE can be found here.
View Comments (1)