Student by day, star by night
Every day millions of people watch movies at the theater, read magazines, listen to gossip, and make assumptions of what actors are like. But most of them never really get the chance to get to know the person. However, anybody that knows freshman Gavin Casalegno has already met somebody that has been in two major 2014 releases: Noah and When the Game Stands Tall.
"I really don't like the word famous," Casalegno said. "It is like a title and I don't like being considered that because I try to be a normal kid and this school helps with that. Everyone has problems and six pages of homework a night definitely helps with that."
It's hard for Casalegno to think of himself as famous, when he's still learning his craft.
"Being an actor requires a lot of work," Casalegno said. "I go to my acting class probably three times a week for four hours each. I go to Cathryn Sullivan. She is absolutely great and very optimistic about things and teaches you exactly what you need to work on."
Just 14-years-old, Casalegno has been acting for more than a decade.
"I was really young and didn't know anything," Casalegno said. "My mom had a friend that recommended us to this agency and it started off modeling. I modeled for like four years and after that I got my first audition and I wanted to see how my career goes. It then got a lot better and easier."
Gavin's acting career started as a modeling career with one photo shoot where he  worked with Dallas Cowboy's starting quarterback Tony Romo.
"The photoshoot was for the Starter brand," Casalegno said. "I played football with Tony Romo and he taught me how to throw and that was really cool."
After modeling for a couple of years, he decided to try out acting.
"My first acting job made] me really good friends with my best friend today, Laney Taylor," Casalegno said. "It was a Sony commercial for a camera. It was me and Laney just hanging out, like playing hide and seek, and we were really little. We climbed trees and looked like we were having a lot of fun. We were watching tv and throwing popcorn at each other."
However, none of his earlier experiences compared to his role as "Young Shem" in Noah where some of his costars included Oscar winners Russell Crowe and Anthony Hopkins along with Harry Potter star Emma Watson.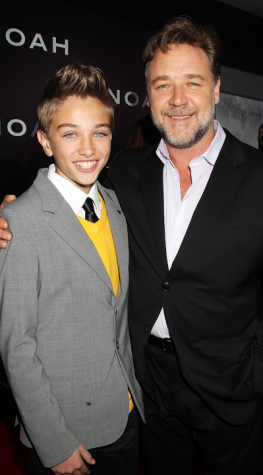 "One of my best memories with Russell Crowe was when it just stopped raining and there were these giant green mountains," Casalegno said. "People see all of these pictures and say it looks cool but when you are in person, the mountains are just beautiful. It's indescribable, really. So after the rain stopped it got really foggy up on the mountains and it looked like the fog was dripping down the mountains in streams of fog.

"

"So, Russell Crowe grabbed the sides of my head and said 'Remember me with this'. I've always had that picture in my mind."

— Casalegno said.

 [Another one of my best memories was] being in a cave with Anthony Hopkins, Russell Crowe, Darren Aronofsky. They are the coolest people. I taught Anthony Hopkins how to cradle, like with your fingers, and in the scene he had to teach me how to cradle. That was sort of weird because I taught him and then he was showing me what I already taught him."

With all of these movies, commercials, and shoots Casalegno is involved in and friends he has made, he has opportunities few people his age get.

"Red carpets are so much fun but it literally takes forever to get the right outfit," Casalegno said. "Like for Marvel, I wore Marvel shoes, a blue jacket when I went to the Guardians of the Galaxy premier. But they are really awesome because you feel the success of the finished product and you feel achieved. You say 'Yes! I did a good job and now this is my reward. Getting interviewed and get pictures taken of you.' It is crazy because people will be screaming your name like 'Gavin! Look over here! Smile more! and I'm just like oh my gosh where do I look."

When on set and traveling, Gavin has to keep up with all of his school work so he can be caught up when he gets back.

"[Missing school for jobs] is bittersweet because I know that as soon as I come back I have to turn in all of that work," Casalegno said. "It's required to do three hours of school [on set] which helps, and they hire a tutor. But it's still so hard because usually I have to teach the tutors how to do my work and then they understand but it's kind of interesting how that all works. It is terrible but it is also awesome because you're filming these movies in Iceland and then I come back and I have 40 pounds of homework."

Even with the "fame", Gavin stays in contact with his friends from the high school while traveling for jobs.

"Gavin is a really down to earth person, fun, loving, and he cares about people," freshman Katie Bardwell said.

"

"He wouldn't bring up [that he was famous]. He isn't that type of person,"

— Bardwell said.

"He wouldn't bring up [that he was famous]. He isn't that type of person. He has been my best friend since we were two and he is still the same person that I met then. I haven't gone to a red carpet event with him but I went to the premier of I Am Gabriel with him as his "date". It was interesting to see how good of an actor he really is and [seeing that] he isn't just someone that is out there to be out there like a Disney actor. He is a really good actor that knows what he is doing."

When Casalegno travels to different cities, states and countries, his mom is usually the one that accompanies him.

"[I travel with Gavin because] minors under 18 are required to have a guardian with them at all times when auditioning or working on set," Gavin's mom Allyson Casalegno said. "You really can't be too careful. He interacts with so many people during the process."

Until recently, Allyson was Gavin's manager too, but regardless of her role, she appreciates how hard her son works.

"[I am] more proud than words can say," Allyson said. "Most people don't realize how much work the acting business requires. He juggles countless scripts and appointments as well as working on actual projects, all while maintaining school and social activities. So when we get to see him in a film, knowing the amount of work he put in, it's definitely a proud moment."

Even though acting might be a job, Gavin loves almost every second.

"It is awesome," Casalegno said. "In scenes you don't get to be certain people. Like you act like yourself around your friends and family but when you're with your friends in acting class, you act like a whole different person. You can act like those different types of people and then you know how they feel because you get in depth with their emotions. Acting is a lot of fun and I don't know what I would be doing without it."
Leave a Comment
About the Contributor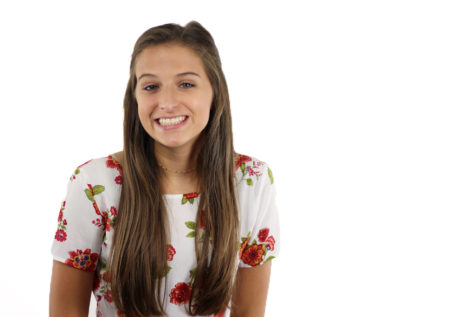 Mary Catherine Wells, TRL Editor-in-Chief
Mary Catherine Wells, a now senior at Lovejoy High School, proudly takes on the role of Editor-in-Chief at her online school newspaper, The Red Ledger....