Collin County seeks to prevent summer outbreak of West Nile
Though the warmer temperatures of spring are appreciated by many students, the hotter weather also brings an unwanted, and sometimes deadly, pest: mosquitoes.
With a major outbreak of West Nile in the north Texas region last year, some cities in Collin County are being aggressive in its attempt to prevent another outbreak this summer.
"We had far more surveillance than what we normally have," Peggy Wittie, chief epidemiologist for Collin County Health Care Services said in an interview with Star Local News.  "[The CDC] is increasing their surveillance of the mosquito populations, as well as surveillance of West Nile activity… with the expectation and the hopes that keeping them low can potentially keep the [number of] humans affected low."
For places like McKinney and Plano this means increasing their efforts to prevent mosquito breeding in areas that have been identified as "hot zones".  Last year, the disease infected many locals, with 76 cases and four deaths in Collin County.
Some students on campus caught the disease, including senior Jonathan Otiker.
"The first symptoms I felt were migraines, sweating, fever, and being tired all the time," Otiker said.
It is important that local residents understand these symptoms, but at the same time, neighboring cities want people to know what is being done in the effort to prevent an outbreak.
"The biggest point we want to get across is that we're really going to be engaging our citizens more so this year and earlier in season, and pushing out education [to] let them know what we're doing," Geoffrey Heinecke, Plano's Environmental Health Manager said in an interview with Star Local News. "We need to get our citizens to understand the key role they have in the mosquito management program."
So as students pull out their beach towels and shorts, it is important that they also bring their mosquito spray in order to prevent West Nile Virus.
"The best way to avoid getting [West Nile Virus] is to use a lot of bug spray," Otiker said. "Even if it smells weird."
About the Writer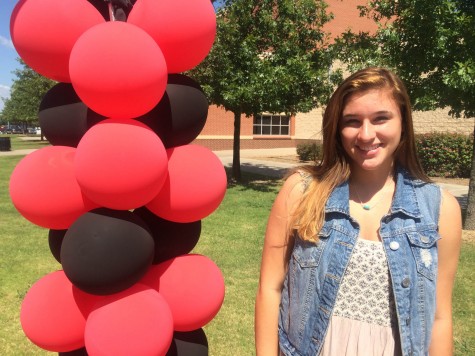 Michelle Stoddart, Managing Editor
Michelle is a junior who is deeply involved in activities both in the school and out of the school. As Captain of Extemporaneous speaking for the Debate...