Ties to the past to be torn down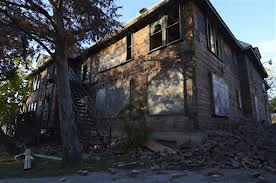 The apartment building in Oak Cliff which included a unit once occupied by John F. Kennedy's assassin, Lee Harvey Oswald, is currently in the process of being torn down after being declared to be a threat to public safety due to the dilapidated condition of the building.
Oswald and his wife Marina lived in Apt. No. 2 at 600 Elsbeth St. in the north Oak Cliff neighborhood from November 1962 until March 1963, a few months before he assassinated Kennedy on Nov. 22, 1963. Built in 1925, the building had no national or state historic designation, and Oswald was renting another apartment on Beckley Avenue in the north Oak Cliff area around the time that he assassinated the late President Kennedy.
"The condition of the property has worsened, is an attractive nuisance to vandals, and threatens harm to the public health, safety and welfare," Dallas Senior Assistant City Attorney Andrew Gilbert wrote Monday in an official statement published online. "In addition, the city is concerned that [the contractors renovating the apartment] may not have properly abated all asbestos containing materials from the property, including sheetrock that contains asbestos [a substance that used to be common in construction now believed to cause lung cancer]."
Although the building was purchased by Jane Bryant of Align LP six years ago with the intention of renovating the ten unit complex, a judge ordered the building to be demolished two years ago. Bryant had been fighting the demolition up until a few days ago, saying that inspectors unfairly targeted the property.
However, the city plans to preserve several artifacts from Oswald's former apartment and provide history fanatics a chance to own a piece of American history.
"Many pieces – such as the bathtub, toilet and medicine cabinet – from the Oswald's Apartment No. 2 have been sold and hauled away," according to a statement released last month by the Dallas Morning News.