Annual Country Run supports athletic programs
Hang on for a minute...we're trying to find some more stories you might like.
When Lovejoy High School was founded in 2006, a tradition was founded with it in the form of a fundraiser sponsored by all the athletic booster clubs in the school. The original Lovejoy Country Run saw 568 runners line up to support the newly founded athletic programs. Six years later, the annual Country Run has become not only a tradition for the high school, but for the entire community.
"It's not necessarily just Lovejoy families," softball booster club member Victor Green said. "It's open to anybody and everybody that wants to come."
The 6th annual Run, held on Saturday, May 19th, is supported by local running store Luke's Locker, who publicizes the run and supplies timing chips for race participants.
"We work with Luke's Locker," Green said. "They put it on and supply electronic timing chips. The 5k itself is actually a certified race with a certified track, and the Luke's Locker program helps contact really serious runners."
There is both a 5k and 1k race, and each race has runners with varying degrees of experience.
"The 1k is very family friendly, you see a lot of kids and moms pushing strollers," Green said. "The 5k is set up so that you have some very good runners, but you also have a lot of families just having fun."
In addition to the actual races, the event contains attractions for the entire family.
"We will have a crafts table this year and we are hoping to have some fun there," Green said. "There will be a pancake breakfast and bounce houses for the kids, as well as face painting, and there will be a live DJ."
There will also be opportunities to win prizes, donated by various local groups.
"We are giving away an Ipod in a drawing, and there is a competition between the elementary schools; whichever school has the most kids gets $5 back for every kid attending," Green said. "There is also a raffle for Michael Johnson performance sessions."
Over1000 participants are predicted, which will make this year the highest attendance run yet. Organized by Lovejoy Leopards Inc., the umbrella organization over all athletic booster clubs, and headed up by Jim Gleason of the girls soccer booster club, the Country Run can be registered for in two ways.
"You can pre-register online at Luke's or you can register the day of the race," Green said. "We are expecting a good crowd, and it should be a good time."

About the Writer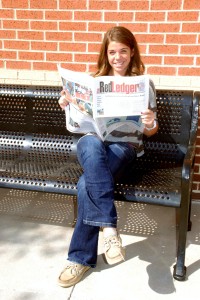 Ginger Hervey, Editor-in-chief
Ginger Hervey cried on her eleventh birthday when she didn't get a Hogwarts letter. If there was an Olympic event for sitting around in sweatpants, eating...