Beating alongside the best
Senior shares his experience in the Juilliard Summer Percussion Seminar
Spotlights focus on the performers as they perform their end of camp concert. The drum beats perfectly in rhythm with the saxophone and piano creating a harmonic environment. The jazz performance comes to an end and senior John Hanchey makes his final strokes. The crowd stands to applaud the work of the performers. John stands proudly behind his drums after a long two weeks of work.
John is a member of the band who has been playing percussion for seven years. This past summer, John was accepted into the Juilliard Summer Percussion Seminar. Set in New York's Lincoln Center, the seminar offers students hands-on instruction in orchestral, contemporary and world music styles. 
"I figured out that I got accepted into the summer program late February," John said. "The program is two weeks long and started July 10. My whole family and I traveled from Rochester, New York to New York City by train because I was at another two week intensive before heading to Juilliard. I stayed in school dorms for both camps."
For the video audition to Juilliard's Summer Percussion Seminar, students are required to perform four solo works, as well as a short introductory video for a total of five videos. 16 to 18 percussionists out of 50 are chosen for the program.
"The audition process for me was really stressful," John said. "My audition wasn't my best work because I found out about the camp two weeks before the deadline. Luckily it all worked out."
John is constantly working on his pieces to improve his skills. The time he spends working at home allowed him to be successful in a pressured environment. 
"John mostly practices at school, because he has better access to percussion instruments like the timpani," John's father Brian Hanchey said. "When he is practicing at home it is mostly on his drum set, for jazz band, and with his marimba we own at home. For his five-octave pieces, he rehearsed at school with the larger marimbas."
Participants have the opportunity to experience a multitude of master classes, clinics, lectures, rehearsals and performances led by a faculty of distinguished percussion teachers and performers. Students are exposed to careers and passions represented at the school of Juilliard as well as crucial skills to prepare them for success in college auditions and beyond.
"A day at this Juilliard intensive was definitely a lot to take in," John said. "Every day we would have two masterclasses with Juilliard professors and other orchestral percussionists. We would get two chamber rehearsals every day where we would prepare music for the end of the camp concert. We were done for the day around 8 to 9 p.m."
Emily Hanchey, John's mom, has supported him since the beginning of his music career. John started by playing piano in third grade and continued to develop his skills until he found the instrument that was right for him. 
"We as parents support his music by providing as many opportunities for him to grow as we can," Emily said. "We love that he is exposed to many genres of music and styles. He takes about three hours of private lessons each week as well as weekly three hour rehearsals for Greater Dallas Youth Orchestra to help him grow and develop into a better musician."
John is applying to many schools such as The Juilliard School, Curtis Institute of Music, Eastman School of Music and more. He hopes to use his experience and accomplishments to get into his dream school, Juilliard.
"I would choose Juilliard over other schools because I love the faculty and the environment," John said. "New York City is one of my favorite places and I feel like I would fit right in. I want to get a job in a big orchestra, but until then I would teach and do drumset gigs on the side."
Leave a Comment
About the Contributor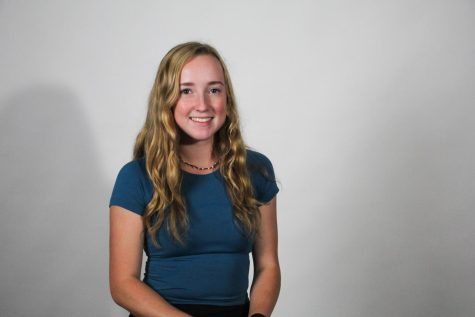 Campbell Lester, Section Editor
Campbell Lester is back and ready for her second year on staff, especially now as News Editor. After making it successfully through her first year in high...