Psyched
Psychology teacher describes his experiences, future plans
From medical school, to coaching, to Hawaii, John Baker will do it all. Baker is an AP psychology teacher at the high school. He found a passion in teaching psychology. 
"In my first year of teaching, I was forced to teach AP economics, regular economics and US history, which is quite a bit for someone in their first year," Baker said. "The entire time, I was miserable because I did not like economics. [Psychology] was interesting, but it was not economics."
One of Baker's department chair teaching partners taught psychology. The department chair's family moved away, so they needed somebody to teach psychology the next year.
"I jumped on it," Baker said. "It was my chance to get away from econ, and I just kind of fell in love with [Psychology] at that point. It was so much fun."  
Baker originally went to school for biology and medical school. After Baker decided not to continue with the pre-medical track, he shifted to a social studies major at the University of North Texas. Economics, psychology and US history all fall under his social studies certification. 
"I was gonna go the doctor route, and then I realized that that wasn't really what I wanted to do," Baker said. "I had always had some amazing teachers who really inspired me, and I had a couple at the time. I was really inspired by professors, and they were not biology and doctors. Then part of me wanted to coach." 
Baker was the head girls soccer coach at the high school. He coached girls soccer for 14 years and played in college. His daughter was born mid-season, causing him to quit coaching once the season ended. 
"[As a teacher,] I really like the students and having class building relationships," Baker said. "I like having fun with the information and connecting it. Getting to know kids every year and how everyone's different with certain little stories and backgrounds are entertaining." 
Senior Abigail Thomas took Baker's class last year. She plans on continuing to study psychology throughout college. 
"I hope to end up minoring in [psychology]," Thomas said. "The class helped me see my passion for understanding people and why they think the way they do. I plan to become a psychiatrist, and I would have never been able to make that decision without the lessons I learned in that class." 
Baker describes his teaching style as a lecture-discussion that is hyper-organized. Flashcards are a big part of the class, so he has students connect each term to real life situations. 
"For the most part of the actual classes, I think it's a lecture, but it's more like telling stories," Baker said. "I always say that, it's akin to almost doing a stand up comedy act for 45 minutes. Then you turn around and you do a different one, but you're playing off the room. My mentor teacher and I used to talk about how teachers should probably have to go to a stand up comedy training. It can't just be an information dump. You have to find the moments that are gonna lock people in and make people laugh and make them want to come to your class." 
Baker values keeping students engaged in his classes. Students have group discussions throughout his class to better understand and connect material. 
"Mr. Baker is super witty and sarcastic which makes his lectures really enjoyable," Thomas said. "He relates everything to our own lives and encourages that when we study on our own. Without this method, I probably wouldn't remember any of the terms I know now."
A recommendation from a friend prompted Junior Macy Moore to enroll in AP Psychology. 
"In Baker's class we have a lot of lectures, but they are interesting because he gives good specific examples of the topics we talk about," Moore said. "You can normally visualize to get a better understanding."  
Baker has future plans to move to the oldest island in Hawaii. After spending time traveling there in the past, he hopes to move his family there and continue teaching. 
"At some point in the next hopefully five years, my wife, our daughter and I are going to move to Kauai, Hawaii with my retired Aunt and Uncle and maybe my [parents] as well," Baker said. "We're all just going to get places out there. I'm probably going to still teach out there until I can retire from there as well."
In the meantime, Baker hopes to continue traveling with his family and has plans to backpack in Europe when his daughter is old enough. The Baker family recently traveled to Colorado for his daughter's first trip. 
"My favorite part about Psych was definitely being able to apply our terms to real life," Thomas said. "Based on the classroom learning, I could later apply what we learned to my life and my surroundings which I really liked and want to continue to do in the future."
View Comments (1)
About the Writer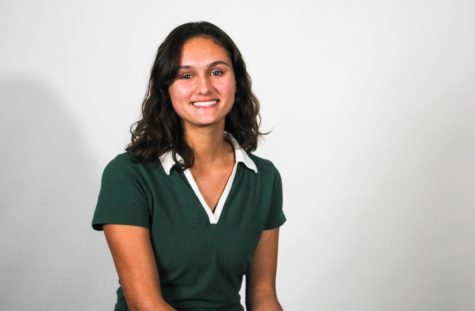 Marisa Green, Staff Writer
Entering her second year on staff, sophomore Marisa Green is excited to get back into writing for TRL. Outside of the newsroom, Green spends her time running...