Substituting secrets
Substitute teacher delivers cookies and care to faculty and students
As the clock hits 8:40 a.m., students begin to flood the hallway on their way to first period. Many students will find that their classes have been temporarily assigned a substitute teacher to fill in and guide the lesson. Some students will be greeted with a tray of fresh cookies left by one substitute in particular. Holly Lewis works in multiple schools in the district and is dedicated to providing knowledgeable instruction, care and cookies to students. 
Lewis or Mrs. Lewis, as students call her, worked in education prior to her substituting at the district. 
"I worked in Garland, and I taught Pre-AP U.S and seventh grade Texas History," Lewis said. "I have also taught English." 
Lewis then transitioned into the substituting role, providing her more time to see her children. Lewis found interest in the variety of topics that substitute teaching has exposed her to. 
"Substituting for Mr. Barter [AP US History] is my favorite because that was the subject I taught," said Lewis. "But I do find some of the other classes pretty fascinating, and it's good to go back and relearn some things that I haven't been exposed to in a long time."
Besides being interested in a variety of subject matter, Lewis makes sure to devote time to her substituting secret: baking. 
"I like to bake for the teachers because I feel like they deal with a lot on any given day," Lewis said. "If I can make their day just a little bit better by showing them that somebody appreciates all the things that they can do, I will."
Teachers can expect seasonally baked goods such as gingerbread cookies, lemon cake and orange cranberry bread in the teacher's lounge.
"Mrs. Lewis is coming here and helping out teachers by being such a strong presence in the classroom," said Cynthia Anderson, English and AP Literature teacher. "Every time she comes, I know she's on campus because there is good food in the lounge, she always treats teachers as well as students."
Lewis ensures that teachers and students alike are cared for. 
"I was out for a while at the beginning of the year with my husband in the hospital," Anderson said. "She [Lewis] has been subbing for me.  I came back, and she had left me a gift card. She's the sweetest and kind-hearted person."
Lewis has also been an impactful faculty member for many students. 
"One thing that surprised me with Mrs. Lewis was how personable and kind she is, " senior Samatha Belatur said. "She came into class one day with a bowl of oven-baked chocolate chip cookies. She even had two flavors. Everybody in our class loved it, and we talk about that day all the time." 
Lewis also spends time in the baking process. She uses recipes online and tweaks the ingredients. Lewis frequently tests out her recipes on members of the faculty who notify her when she has reached perfection.
"I find baking very therapeutic," Lewis said. "If I have a bad day or my kids are at school, I can come home and turn on that mixer and some of the frustration can be beaten into the ingredients."
Lewis has a son at the high school, senior George Lewis. Substituting has allowed her to see her children at different campuses. 
"I like that my mom works at the high school, although I don't think our relationship changes too much at school," George said. "I talk to her like any other teacher." 
Many members of the community, including Anderson, are grateful for substitutes like Lewis. 
"She does this for the community; she does this to help others," Anderson said. "Her servant heart is the reason why she's in the classroom. It's hard enough to be in school all day long. When you have the chance of who's going to be in the classroom and what's going on inside the classroom, to actually have somebody who cares for you in that role is so important."
Leave a Comment
About the Writer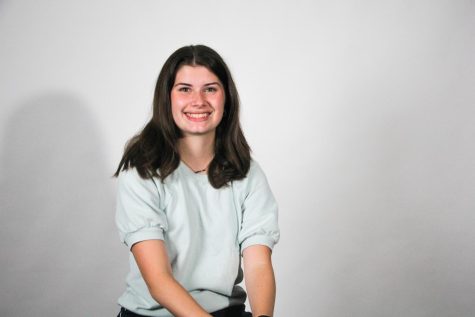 Eleanor Koehn, Section Editor
Although Eleanor Koehn is a senior, this is only her second year on staff and her first as Arts and Entertainment Editor. When she is not reviewing and/or...