After a long summer came to an end, Katie Haeussler had an idea. She realized she had the skills and materials to start a custom hoodie business and pitched it to her friend, Jade Owens. Seniors Haeussler and Owens established their school spirit themed hoodie business, JK Designs, before the beginning of their final year at the high school.
"Over the summer, we became pretty close friends," Owens said. "I knew that she was really crafty, and we liked to hang out. [The business] worked I guess. Our families knew each other before school started, so we really just hung out as much as we could."
The girls then began making the custom hoodies with Haeussler's Cricut machine in August. The Cricut software has a design space where the girls depict their ideas. The machine later cuts out the design on vinyl.
 "I have a crafty little ability, but [Jade] did the design and decided what it should look like with fonts," Haeussler said. "I have a full setup because I already own another side business other than JK Designs."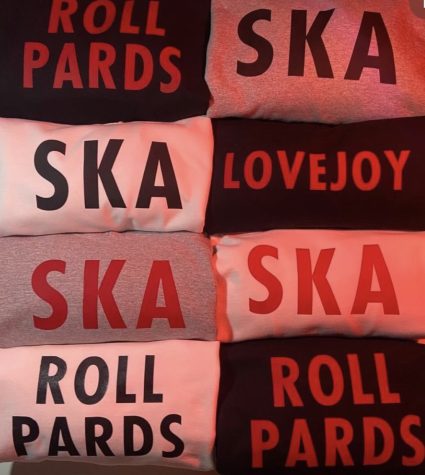 Haeussler had previous experience beginning crafting and sewing eight years ago. JK Designs gets together every weekend to work on their projects. Haeussler and Owens live a minute away from each other which allows for flexibility in their business schedule. 
"Especially since it's Jade, she and I don't get annoyed at each other and it's pretty nice," Haeussler said. "We just have a really good system." 
JK Designs takes the customer through a google form where they can choose every aspect of the hoodie design. Haeussler stays on top of printing their design using the Cricut machine. Owens lines up the vinyl to the hoodie and manages the ordering process. 
"The custom ordering process was pretty easy," Gianna Lutcza said. "It was really awesome to be able to create and pick everything I wanted on my hoodie, and Jade and Katie helped me along the way."
Customers can customize if they want double Ls on the sleeve, graduate year on the back, paw print and the colors for each print. JK Designs has their google form available on their Instagram: @jk_designs23. 
"Jade and I both have fun doing it and I personally like to see people wearing stuff," Haeussler said. "I guess it's the satisfaction of saying, "We did that.: We have a good system where we are making money and you know, more school spirit. Roll Pards is one of our big ones that we put on a sweatshirt so I guess we are just hoping for school spirit."