Sail it ain't so
Freshman shares her relationship with sailing
As the wind whistles by, she stays alert. Scanning the vessels around her, keeping an eye on the other competitors looking for her perfect match.
As she looks around and notices it's about to start. Three.
She grips the tiller extension on her 4.7 Laser boat: number 15909. Two.
She checks her position: behind the imaginary starting line. One.
The horn blares, and the competitors catch the wind, setting off.
Freshman Taylor Barney began sailing after attending a program in New Jersey. After realizing it was her passion, Taylor sails competitively, practicing around five hours a week.
"I love it," Taylor said. "It's my happy place. I don't have to worry about school or family or what I'm doing the day after. I just focus on what's going on at that moment."
Taylor began sailing when she was 9-years-old after her grandfather, John Barney Sr., motivated her to join the summer program. 
"He's very proud of his granddaughters for starters," Taylor's mother, Amy Barney said. "He started sailing himself when he retired. He and my mother-in-law both are very active and like to stay active. Finding activities and things that kids could do while we were out there was definitely something he was striving for."
The first boat she sailed was an Opti, short for Optimist. She sailed with this boat before upgrading to the Laser, a single-handed sailing boat that is larger and requires increased weight and ability. In 2017, she competed in her first competition in New Jersey. However, she wouldn't be limited to competing in the garden state for long.
"After a month or so being home, she came to us and said she just absolutely loved it and she missed it," Amy said. "She really wanted to be able to sail all year."
From then on, Taylor would begin to sail year-round in Texas. Taylor joined the Rush Creek Yacht Club's junior team three years ago, where she later upgraded to the Laser.
"I thought it was great because Taylor had never been in a team sport like soccer or anything like that," Taylor's father, John Barney said. "But now here she's found her niche. She's found her passion."
As a member of the racing team, Taylor competes all over the state. Taylor competed at the two-day Rock the Ice competition on Jan. 29. She came in second place, losing the tiebreaker by one point. 
"I love it so much," Taylor said. "But when it's 105 degrees and you're sailing for another two hours and there's no food, it's kind of sad."
Taylor's next competition is on April 23 and 24 at Lake Canyon Yacht Club. However, Taylor doesn't plan on ending her joy of sailing when she graduates, but looks further down the road to continue sailing in her "happy place."
"I would like to sail in college," Taylor said. "There are definitely other things I need to focus on, but I'm keeping sailing is important. I hope to find a college with an actual sailing team and not just a club to sail in. I love what I do right now, it's my favorite thing in the entire world."
Leave a Comment
About the Writer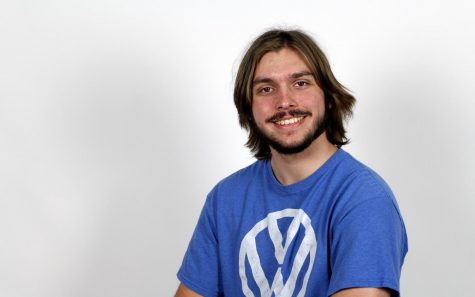 Mathias Alling, LJP Staff
Junior Mathias Alling is entering his third year on The Red Ledger as a section editor. He can often be found riding his bike at six in the morning, at...