Editor's note: Courtyard Conversations is a monthly series, which features the school's staff members, and a topic that is relevant to their lives or work at the school. TRL staff members speak with each month's subject in the courtyard. For the seventh edition, TRL's Mathias Alling speaks with teacher Brandon Barter about his move from Alaska to Texas.
From the frozen tundra of Alaska, to the furnace-like temperatures of north Texas, AP U.S. History and Government teacher Brandon Barter has seen it all.
Barter moved to Texas eight years ago with his family after living and teaching in Alaska his whole life. 
"We sold our house, quit our jobs and moved here," Barter said. "We were just looking for a change. My wife and I were both born and raised in Alaska so long winters and cold. We're like 'well, let's see if we can do something different.' Texas was on the radar, and I had family growing up that was in the Austin area and El Paso. I was familiar with the state and decided to give it a shot."
Barter previously taught at West Anchorage High School in Alaska for seven years: teaching AP U.S. History, Honors U.S. History, and regular U.S. History.
"I've always had a passion for history in the social sciences," Barter said. "Originally, I thought about pursuing law in college. Then I switched to psychology, and I went back and forth. My mother was a teacher, so she said, 'Hey, if you have a passion for this material, you might think about getting into it; you might enjoy it.' Once I got into the classroom, it was everything I expected. I've stuck with it, and I've really enjoyed it."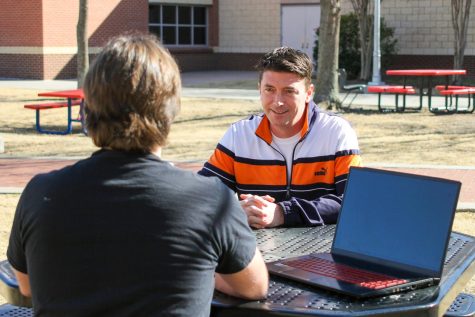 Barter also received his master's degree in the Constitution with a specific focus on the general welfare clause through the James Madison Fellowship: a fellowship that takes one teacher from each state allowing them to pursue a master's degree in the constitution, with the expectation that they continue to teach. 
"You fly out to Georgetown, you spend one summer there, so I spent about a month and a half at Georgetown University studying with teachers from around the country," Barter said. "You start grinding down the Constitution and then you further your academics through whatever university you want. I got my master's degree through Alaska Pacific University, but it's a wonderful program."
Barter and his wife, Kathy, drove to Texas in 2014 via the Alaskan-Canadian HighWay: a distance of 3,890 miles.
"There's pros and cons to both," Barter said. "The scenery of Alaska can't be beat, you know, the mountains and the outdoors that you can experience there. I think the amenities of Texas, and I actually do enjoy the heat. Overall, my wife and I are both happy with our move."
Once Barter arrived in the DFW area, he began teaching AP U.S. History, U.S. Government, regular U.S. History and American Studies at Plano West High School. After two years of teaching at Plano West, Barter started teaching in the district in 2017.
"I still find the job challenging and full of joy," Barter said. "I mean, like anything else there are responsibilities. I know that students dread the essays, but [the] fact of matter is I dread them as much as they do because then I have to grade them. I enjoy what I do, and I enjoy the interactions with my students on a daily basis. I enjoy the fact that we're able to laugh, but we're also able to be serious. We're challenging each other to be better."