Editor's note: Courtyard Conversations is a monthly series, which features the school's staff members, and a topic that is relevant to their lives or work at the school. TRL staff members speak with each month's subject in the courtyard. For the first edition, TRL editors Lindsey Hughes and Parker Post kicked off the series interviewing principal Chris Mayfield.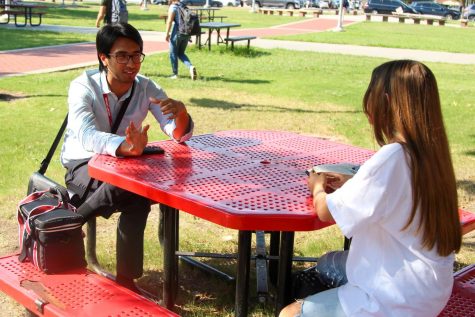 Former Allen High School student and University of Texas at Dallas graduate Victor Munguia, also known as Mr. M, is spending this fall semester as a student-teacher. 
"What I do right now is I take one class period a day, second period precalculus, next week that's going to go up to three classes," Munguia said. "I make answer keys, I grade quizzes and I walk around answering questions."
Munguia received his degree at UTD, and planned to be a teacher since his freshman year of college. His interest in teaching stems from a desire to help students understand arithmetic.  
"I've just always liked helping people and knowing that someone has the confidence in you to ask and trust you with their questions," Munguia said. "It's hard to pinpoint a specific part of me that wanted to teach. It just came from a love of the subject."
Munguia is currently in math teacher Kellie English's classroom teaching precalculus, one of the many mathematical subjects he's studied throughout his career. These subjects have evolved into academic material he's enthusiastic about passing on to the next generation. 
"You have to take content exams for every subject you teach," Munguia said. "If you wanted to teach [math], you would have to know precalculus, algebra. You'd have to know statistics, calculus and a number of things."
In order to attain the position he's in today, Munguia took many teaching-related courses varying from classroom management to curriculum instruction in the teacher development program offered at UTD.  
"It's not as easy as people think," Munguia said. "There's a lot that goes into it and any certification is a lot more than just knowing your exam material, you have to know how to apply it." 
With UTD's field experience lasting one semester, Munguia's time as a student teacher will not extend to the spring semester, but he plans to maximize his time and involvement in the classroom. 
"I know it's not possible for everyone to love math, but I will say I'd like for everyone to see the value of it and see that it is useful," Munguia said. "If nothing else, at least you've worked your brain a bit."