Fostering up a storm
Senior fosters, advocates for fostering kittens as senior project
The trio of grey fur and bright green eyes rush to their breakfast plate. Senior Olivia Miller captures a picture and documents the furry madness on her Instagram. Miller is on her fifth week of raising kittens and advocating for fostering with no-kill shelters.
"Originally I was going to volunteer at Operation Kindness, but with covid and all it was difficult to do," Miller said. "So when I was walking into Operation Kindness to sign up for volunteering, I saw a sign on the door about fostering."
Operation Kindness is a no-kill shelter located in the North Texas area. The organization's fosters care for about 1,500 animals annually. In order to become a foster, volunteers must submit an application in order to qualify. If they qualify and decide to foster, Operation Kindness will provide all medical care and supplies needed.
"I decided to foster three kittens named Thunder, Cloud, and Rain," Miller said. "When I got them, they were all under two pounds and super shy. Over the past few weeks, they have really come out of their shell and love to play and cuddle."
Miller's responsibilities as a foster include "[cleaning] their litter box, [giving] them fresh food and water, and lots of love and attention." She also has to take them in to receive shots and wellness checkups.
"Fostering is super fun and cute, although it can be a pain when you're in a rush or trying to do homework and there is a kitten running around the house like a maniac," Miller said. "I have become attached to the kittens and don't want to give them back, but I know they will find a great new family that will give them so much love."
Thunder is the male kitten of the group with grey-black fur and green eyes. Cloud is a female and the smallest with black fur and green eyes. Rain is another female with grey fur with white feet and green eyes.
"The kittens have brought a lot of happiness and joy to the household," Miller's mother Tina Pack said. "We really enjoy having them around, and they are very entertaining."
Miller has started an Instagram page to document her fostering journey.
"Olivia's Instagram is adorable," Miller's friend Gianna Sineni said. "She checks up on it daily and is always asking people to share it. The many photos she takes of the kittens are always posted and I hope more people begin to interact. Sharing pictures, fun stories and growth progression are important to her."
Miller hopes to continue to foster different animals in the upcoming months.
"It makes me so happy to know that I got to be one of the first people in the animals' lives who got to influence their behavior and make interactions with them," Miller said. "I hope to [foster] puppies [next] time and maybe kittens again later."
Miller's fostering of the three kittens will end Thursday.
"Overall, I strongly recommend adopting or fostering from Operation Kindness," Miller said. "They are one of the largest no-kill animal shelters and are doing truly amazing things."
View Comments (1)
About the Writer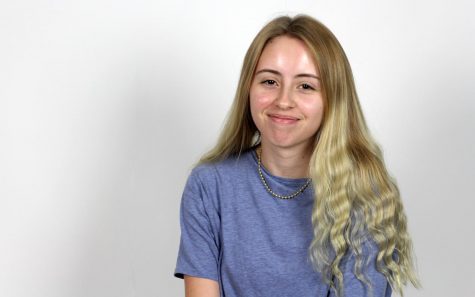 Ashlan Morgan, Staff Writer
Senior Ashlan Morgan is entering her final year of high school as a first year staff writer on The Red Ledger. Outside of school, Morgan keeps her Enneagram...