Review: Taylor Swift's 'Red (Taylor's Version)' mends broken hearts
After Taylor Swift's first six albums were sold without her knowledge by Scooter Braun as he owned her songs, Swift decided to re-record her songs from her albums. In April, she began her "Taylor's Versions" with "Fearless" and on Nov. 12 re-released "Red." Swift doesn't own any of her songs before her 2019 album "Lover." Her new "Red (Taylor's Version)" album has 30 songs, along with a message from Taylor describing the album, adding up to a running time of 2 hours and 11 minutes. 
At first glance through the songs, true "Swifties" will recognize some of the same songs from her old "Red" album, including "22 (Taylor's Version)" and "We Are Never Getting Back Together (Taylor's Version)." These throwbacks bring back the simpler times of 2012 with the maturity and style of Taylor today.
But what makes the album is the bonus songs that demonstrate the soft lyrical genius of Swift. One of these is the song "Better Man (Taylor's Version)" which was originally released in 2016. The country beat mixed with the lyrics calling out men and describing the conflicting feelings of loneliness and wish after a breakup. 
The build up and satisfying beat drop on the lyric "Terrified" forms the catchy song "A Message in a Bottle (Taylor's Version)." Swift's lyrics stay with her heartbreak theme from "Red," but the up-tempo and almost tecno underlying background is a pleasant change from the mainly slower tempo songs.  
The song "Run (Taylor's Version)" feat. Ed Sheeran brings beautiful harmonies between the two as their voices mix. This is Swift and Sheeran's third collaboration together, and it's noticeable in their transitions throughout the song. The song talks about running away with your significant other, which follows on the last hopes of a broken relationship.
Taylor added the original 10 minute version of "All Too Well (Taylor's Version)." Normally, a ten minute song would feel dragged out, but the smoothness of the longer version gives it the feeling of a three minute song. The full version feels more complete than the five minute one in her initial album. The song "Starlight (Taylor's Version)" shows the highlights of relationships and how at some points you can feel like you're floating. This contrast from heartbreak stands out and brings an upbeat song that makes you want to cherish those moments.
One of the saddest songs on the album, "Ronan (Taylor's Version)" has the most heartwarming backstory out of all of the other songs. Taylor was inspired from the true story of Maya Thompson's son passing away from neuroblastoma, a type of cancer, in 2011, and the blog Thompson kept. Thompson is credited as a co-writer for the song.   
Overall, Swift's new album is screaming in the car while it's playing full blast approved and a broken hearted teenager's dream. Even if you don't have a broken heart, this album will have you wanting to pretend that you do. 
Rating: A
Leave a Comment
About the Contributor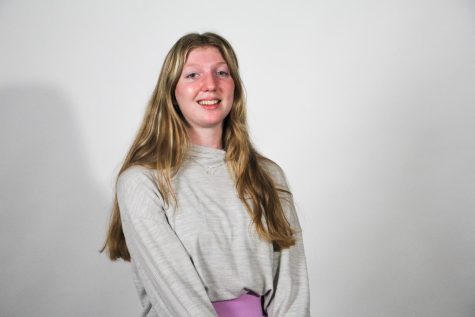 Calla Patino, Editor-In-Chief
Strolling into her third year on staff, senior Calla Patino is ecstatic to be back in the newsroom as an Editor-In-Chief, leaving her summer days of folding...