A picture worth a thousand words
Algebra teacher Deneen Christian holds side passion for photography
As students work in Deneen Christian's algebra 2 class, many do not notice the vibrant photos of picturesque European streets, beaches, and portraits of family members . Little do they know, Deneen photographed each picture with a unique story.
"I just see something that I think is beautiful, and I'll stop and take a picture of it or several," Deneen said. "I just love the colors of the light, and I want that memory. I capture those perspectives like standing under the Eiffel Tower. It was just such a cool view. That's how I see. I just see lots of color."
Deneen began teaching at the high school 13 years ago but has made time to balance her career with travel. She is passionate about photography and travel, as well as teaching.
"When I was in high school, I realized that I could explain math," Deneen said. "I could do it so that people could understand it, and not everybody could do that. And so it inspired me to want to be a teacher. I started tutoring other students when I was in highschool."
Darla Emerson, AP statistics and precalculus teacher, has known Deneen for over 20 years, and has taught with her for over 11 years.
"One of the things that's great about teaching with her [Deneen] is she's positive, and she helps keep things in perspective," Emerson said. "She is great at setting boundaries and helping me to figure out how to set boundaries."
Deneen travels whenever possible. She began small, with camping trips with her children when they were younger. Since then, she has traveled internationally to multiple countries. She has photographed architectural sights like the Basilica.
"I love Italy because of the culture and the food," Deneen said. "It's just so different and things are so old, like the Duomo in Florence, and it seemed like everywhere we were walking, every time I looked down the street, we could just see it. It was built in the 1200s, and it's just amazing seeing the different things over there. One of my favorite photos I've taken is looking up into the dome of St. Peter's Basilica in Rome."
Photography has become a shared interest for Deneen's family. Deneen's husband, son, and daughter all enjoy taking photos, although none of them are professionals. Instead of using a professional camera, she takes photos using her iPhone.
"I have to say I mean all four of us [my family] enjoy it," said Deneen. "But my dad loved photography and took black and white pictures of me when I was a baby. [He] handed his camera down, and my husband used it, so it's one of those old fashioned ones down here. So there's a lot of love of photography in our family. It's just a hobby."
Keith Christian, Deneen's husband, grew a passion for photography over 40 years ago. Keith and Deneen travel and take pictures together, but Deneen enjoys taking more narrative photos of the places they've been.
"When we travel, most of my pictures are about taking really good, neat looking photographs, and her pictures have always been about documenting where we've been," Keith said. "She does a better job of taking more pictures of the things that we've seen. And I tend to try to take the perfect photograph all the time instead of just taking pictures of what we're doing."
Leave a Comment
About the Writer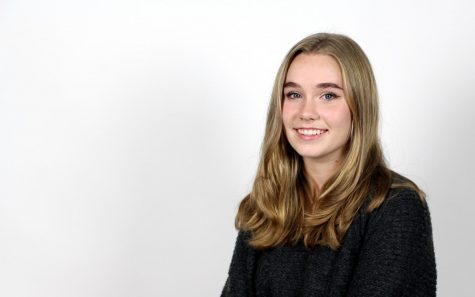 Libby Johnson, Staff Writer
Freshman Libby Johnson excitedly joins The Red Ledger for her first year in high school. Johnson is optimistic about the school year and can't wait to...