Cohesion is key
Athletic trainer begins first year instructing sports medicine
A soft rumble of cleats on the turf comes to an abrupt halt as the whistle blows. The wave of chatter slows where a fretful tension approaches. A bundle of red, white and black jerseys circle the thirty-yard line. With one man down, another comes to aid. Athletic trainer Andrew Smith is that man. 
Smith grew up in Illinois where he played basketball and volleyball as a high school student; his history in the sports world continues into his career as one of this year's athletic trainers.
"This is my first year at Lovejoy," Smith said. "The part of teaching I like that's got me hooked into the high school is that I'm the start of [the students'] path."
Smith began his journey at Calvin University, where he earned his Bachelor of Science in kinesiology. Prior to walking into athletic training, he had his mind set on another occupation. 
"I was preparing to go to physical therapy school," Smith said. "The experience of working in the athletic training room made me change my mind because I never really felt like physical therapy was the right path for me. Physical therapy and athletic training are so closely related, it's an easy jump from one to the other, but one is more athletic-based."
After enrolling in the University of Texas at Arlington and earning his Masters of Science in athletic training, he gained experience in his sports medicine career through internships at multiple high schools. 
"Being active in different settings and working at the high school level interests me," Smith said. "I like being involved in athletics and seeing more of the athletic population."
Smith's time in the classroom and on the field is spent tending to the needs of the athletes, expanding students' knowledge of sports medicine and unifying his team.
"Whether it's communication between myself and Coach Sarah [Seedle], with my students or myself and a doctor, we need to have teamwork and communication so that we're all on the same page," Smith said. 
Fellow co-head athletic trainer and instructor Sarah Seedle operates along the sidelines with Smith. Seedle worked as the middle school athletic trainer before moving to the high school.
"Sports medicine encompasses a large variety of professions that help to keep the athletes in the game," Seedle said. "You have the professions that help to treat injuries and illnesses as well, professions that help to train athletes to perform more efficiently on the field as well as the professions that help athletes to manage their everyday aches and facilitate recovery."
Smith and Seedle's jobs require continuous attention to the athletes. Where dehydration, weather complications and the need for immediate action arise, athletic trainers keep their composure under the pressure. 
"The athletic trainer could be the difference between life and death in an emergency situation," Seedle said. "It is extremely important that the sports medicine team effectively works together for the health and safety of the athletes. This includes communicating with others on the sports medicine team when it comes to injuries and rehabilitation status, knowing when you should refer the athlete to another specialty and utilizing all of our resources to ensure that the athlete is in peak condition for their sports."
Smith characterized himself as "outgoing" and "easy to become friend with," traits that have impacted his coworkers and his team. 
"I enjoy how easy-going Andrew is," Seedle said. "That trait alone makes him easy to work with and seems to make him more approachable for the students. He is also a very trustworthy person, which is critical when it comes to being a healthcare professional."
Junior Alexa Adam is an athletic trainer and student of Smith's. Her interest in health science compelled her to further her knowledge in sports medicine and experience collaborating with others.
"I love that I am getting experience with helping athletes and getting a sense of what working in health care looks like," Adam said. "Coach Smith is extremely understanding and dedicates a lot of time and effort into what he does. He's positive and outgoing, which makes the atmosphere in the training room extremely welcoming."
With Smith as her instructor, Adam learns how to tape, rehabilitate athletes, cover wounds, prevent injury and aid in athletes' hydration. 
"Sports medicine is crucial in the athletic world," Adam said. "We have many responsibilities as trainers, so we all have to be on the same page because coaches and athletes are trusting us to make sure they are safe and healthy to play."
With many seasons ahead, Smith and his team venture into a year packed with action and hands-on training. 
"It's a lot of fun getting to interact with different kids, whether it's student trainers, the athletes or when I come to teach my sports medicine class every day," Smith said. "We get to see the kids achieve their goals on and off the field. That cohesion factor is going to continue to grow as we're with each other."
Leave a Comment
About the Writer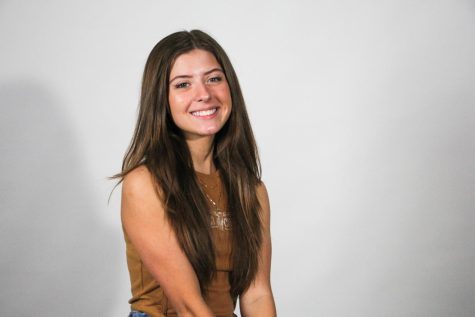 Sarah Hibberd, Editor-In-Chief
All good things must come to an end, but what about great things? Although she's approaching the end of her high school career, senior Sarah Hibberd...