Leopard Look: Sanjeev Rajakumar
Senior Sanjeev Rajakumar, founder and president of Helping Hands, is also president of National Honor Society. He is dedicated to helping others and leaving an impact on his community.
At a Glance:
Favorite book: "The Golden Compass" by Philip Pullman
Favorite song: "Monody" by Rush Garcia
Go-to fast food restaurant: McDonalds
Extracurricular activities: Debate, computer science and cybersecurity team
Looking Deeper:
The Red Ledger: Why did you found the Helping Hands Club?
Sanjeev Rajakumar: The reason I made the Helping Hands Club was because I was concerned about the way that COVID-19 impacted our district. I wanted to do something to actually help people, and I didn't really know what I was good at but I had some tutoring experience. So I thought I could help other people with that.
TRL: Why did you want to be president of the NHS?
SR: When I had the opportunity to run as NHS president I thought I could continue helping people in bigger ways with the Children's Hospital donations and busy books, which we're going to do this year. I was just always looking for ways to help people and increase my impact, especially because of the pandemic.
TRL: How do you balance being president of NHS and Helping Hands?
SR: To be honest, lately because of COVID I actually haven't been doing too much of NHS. So I've done a lot of stuff with my Helping Hands club, but I'm getting back to NHS and into school. I'm just going to try to find a way to organize my time and manage my time, because there's a ton of work I have to do now with colleges. 
TRL: What are some of the duties you have as president of NHS/ Helping Hands?
SR: As the president of the Helping Hands Club, it's essentially managing the tutors, and making sure they are able to contact students and their parents. If students need any help with work or any advice with problems during assessment, I'm here to help. For both clubs, it's mostly working with other officers to help plan. We plan what we're going to do, like volunteer opportunities or the next meeting. Honestly, the officers are super helpful and enthusiastic.
TRL: How have your leadership experiences helped you grow?
SR: I enjoy the leadership responsibilities I've had because before this, I didn't want to do anything in a leadership position. I'm proud of the fact that I've had these opportunities because I feel like they've helped me grow as a leader and develop new skills.
TRL: Do you have any role models?
SR: Honestly, my mom because she's really hard working. She always has a really great work ethic, and I always look up to her. She's always there to help encourage me to work hard and whenever I'm behind on my work, and I don't feel motivated so he's always there to help motivate me and make me do my work. 
TRL: What are your goals for the future?
SR: As I go into college, I just want to see if there are more ways that I can try to help people. I want to find more ways I can do more things like the Helping Hands. I'm majoring in computer science, and I also want to develop my skills while I can. Honestly, right now the big thing is college, and I also want to continue working in these clubs.
Leave a Comment
About the Writer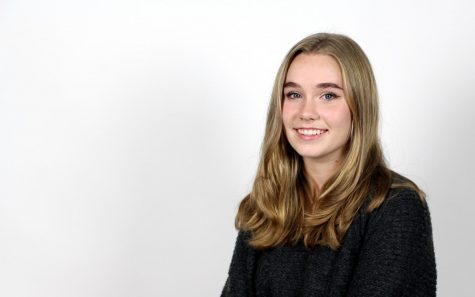 Libby Johnson, Staff Writer
Freshman Libby Johnson excitedly joins The Red Ledger for her first year in high school. Johnson is optimistic about the school year and can't wait to...