Leopard Look: Juhi Sahay
Juhi Sahay is a junior who is taking four AP courses and is involved in many clubs and activities. 
At a Glance:
Favorite book: "Almond" by Won Young Sohn
Favorite snack: Whole Foods pizza
Favorite club: Spanish club or Helping Hands club
Favorite study habit: Promo Focus website
Looking Deeper:
The Red Ledger: What APs are you taking?
Juhi Sahay: I'm taking AP Lang, AP U.S. history, AP Stats, AP Spanish and AP Physics 2. 
TRL: What is your favorite class?
JS: I don't have a favourite class, but AP Statistics is really interesting. It kind of encompasses Psychology, statistics, and even medicine. But overall I love all my classes this year.
TRL: What do you think is your hardest class?
JS: Most of my core classes are at the same level, I feel. It really depends on the attention and work I would give to a subject that makes it harder or easier. But my teachers are all amazing, so I haven't been overwhelmed. Even if it's harder at times, it's a learning process, and it's okay to go at my pace. I know a lot of juniors are really worried about their classes right now, I hope they don't become disappointed in themselves if a class is hard.
TRL: What clubs/electives are you involved in?
JS: I joined the spanish club, I'm the secretary of that. I'm in the Helping Hands club which is like a tutoring, volunteering club, and I'm in speech and debate. I'm not in the class but I'm a part of speech and debate. 
TRL: What are your goals?
JS: This year I just want to try and get better grades than I did before, and then try to pursue some of the interests I have. And then to basically just maintain my own health and build good relationships.
TRL: Where do you see yourself in the future?
JS: Hopefully I am able to do something in the healthcare field, or working in the hospital, I want to try to get more involved in college, so I don't want to say like a doctor or like a nurse, I feel like there are so many different professions, so I just want to explore it more so I know what I want to do.
TRL: What motivates you to work so hard?
JS: I wouldn't say that I'm working too hard, honestly my work ethic has gone down. But I remind myself what I want to achieve in the next few years. It's just reminding me of my goals and dreams that helps me sometimes get back on track.
TRL: What interests you in your field of study?
JS: I've been interested in medicine for the longest time, specifically women's health, because I feel like something that needs reform in certain countries, even in the United States. Especially with Maternal care and everything, it's really upsetting how a lot of women don't have access to it and how there's so much error in the healthcare system. It's even worse in underdeveloped countries, so I want to do something to help towards that cause. 
TRL: What school do you want to go to?
JS: I don't have a dream school. Right now, I just want to apply to some Texas schools, and maybe one or two out of state schools. I'll compare them to see what is better, because you have to think about things like tuition and how far you are from family and stuff like that.
Leave a Comment
About the Writer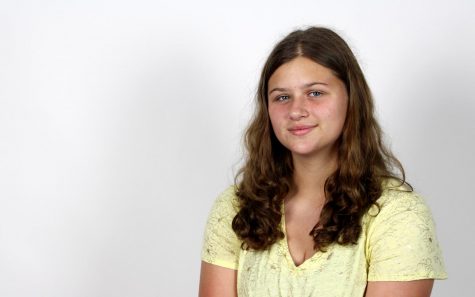 Anna Frost, Staff Writer
Anna Frost is starting her first year of TRL as a freshman, but don't worry, she's pretty fresh, man. Frost is often found on the basketball court or...