Leopard Look: Holly Xue
Senior Holly Xue is a National Merit Scholar and on the varsity tennis team. She is president of the Lovejoy Music Medicine club and a member of the Junior World Affairs Council. 
At a Glance:
Favorite tennis player: Emma Raducanu, US Open champion
Most effective method of study: Active recall 
Favorite pre-match meal: Chick-fil-a and fruit
Favorite book: "Gifted Hands" by Dr. Ben Carson
Looking Deeper:
The Red Ledger: How do you balance competing on varsity tennis and being a National Merit Scholar? 
Holly Xue: I think the key to balancing tennis and academics is being proactive with where you devote time. Although this may mean making sacrifices, I find tennis and spending time on the court a refreshing break from academics.
TRL: What does being a National Merit Scholar mean to you?
HX: Personally, I am grateful to be a National Merit Scholar, as it is a rewarding outcome for years of dedication and taking rigorous courses.
TRL: Do you participate in any other extracurriculars? 
HX: I am president of the Lovejoy Music Medicine club and a member of the Junior World Affairs Council. I also enjoy serving at my church. 
TRL: How long have you been playing tennis? 
HX: I started playing tennis in 8th grade. I always enjoyed watching tennis tournaments like the US Open and Wimbledon, and I also played some for fun with my family and older brother, who used to be on the varsity team.
TRL: What is your schedule like between school and tennis during the week? 
HX: We normally have practices in the afternoon that end around 5 and our weekly tennis matches are around 4-7 every Tuesday. Aside from tennis, I'm usually completing school work or am involved in other extracurriculars.
TRL: Do you have a role model or inspiration? 
HX: My parents are definitely my role models and support system. They have taught me the values of hard work and service. 
TRL: What does it take to become a high performing tennis player and student? 
HX: I think commitment, practice and confidence translates to success in tennis, while time management, hard work, sacrifice and having a supportive and encouraging environment allow for academic success.
Leave a Comment
About the Writer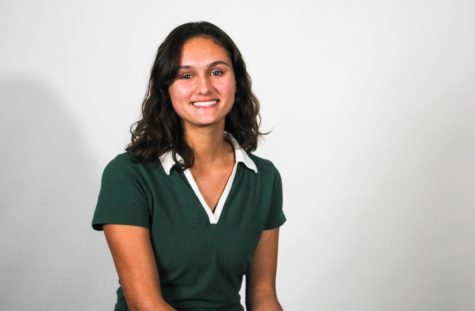 Marisa Green, Staff Writer
Entering her second year on staff, sophomore Marisa Green is excited to get back into writing for TRL. Outside of the newsroom, Green spends her time running...