Buy, trade, collect, repeat
Senior finds passion for trading cards
As he flips through the pages of trading cards he has collected in the past year, Parker is amazed at how quickly his collection has grown. Every new pack of cards he opens brings a unique addition to his ever expanding collection.
After gaining interest in professional sports trading cards, senior Parker Braithwaite decided to start his own collection. Now, Parker buys, sells, trades and collects cards.
"My interest began virtually opening card packs through a game I was playing," Parker said. "Then when the pandemic hit, I realized I had more time and decided to start buying and selling actual sports cards which requires time to research and purchase, and it has just evolved from there."
Currently, Parker has about 2500 cards in his collection. He hopes to add a LeBron James rookie card to his collection.
"The top three favorite cards I have purchased or pulled from a pack are LeBron 2004 Tops Chrome second year, 2020 Prizm Football Tua Tagovailoa Neon Green Pulsar Prizm Auto RC, and then for my personal collection of Damon Harrison aka 'Snacks'," Parker said. "LeBron is my favorite player, Tua Tagovailoa is the most valuable card I have pulled, and Damon Harrison is someone I personally know."
Parker has attended two National Sports Cards conventions in Dallas, and enjoys seeing all the cards on display. His friend, senior Chase Green, also participates in trading sports cards.
"I started seven or eight years ago, and I got Parker hooked on collecting sports cards," Green said. "We help each other by asking do you think it is a good deal and helping each other find cards that each of us will like."
Parker continues to develop his collection and tries to set aside time to work on it so that he is able to limit the time he spends on it.
"Parker's interest in collecting and selling sports cards has been fascinating to watch him develop the different aspects of it," Parker's mom Amy Braithwaite said. "He is developing a skill set that can be difficult for most and harder to learn."
Through trading cards, Parker feels he has been able to further develop certain life skills.
"Beyond just a new interest, it has helped me recognize a better value of money, develop negotiation skills, interact with a variety of people, the value of research, and [how] to accept loss and enjoy gains," Parker said.
Leave a Comment
About the Writer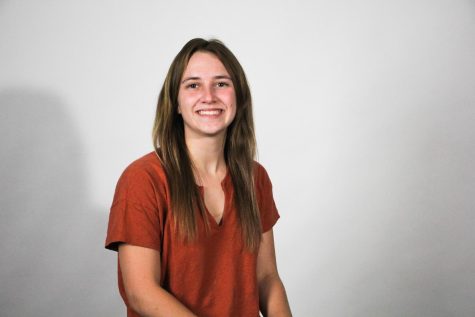 Audrey McCaffity, Section Editor
Beginning her fourth and final year on staff, Audrey McCaffity is more than excited to take on the role of Community Editor. The past four years have been...