Taste the holiday cheer
As the air turns crisp, and Christmas lights are strung, the only thing that seems to be missing is the warm smell of baked holiday goods. Luckily, I am here to help you out. 
Classic Christmas Puppy chow 
Start to finish: 30 minutes
Servings: 15 servings  
Ingredients:
1 cup semisweet or dark chocolate chips 

6-7 cups rice cereal or Chex 

1 cup creamy peanut butter 

1-2 cups powdered sugar 
Melt peanut butter and chocolate chips together over a stovetop.

Add 3 cups of cereal to a large bowl, and pour 1 cup of your mixture over the cereal. 

Add three more cups of cereal in the bowl, and pour the rest of the mixture over. 

Let the mixture cool slightly 

Once the mixture is cooled at room temperature, add 1 cup of powdered sugar, mix until combined.

Let cool for 15 minutes 

Add more powdered sugar, ¼ cup at a time, until your cereal is coated to your satisfaction.  
Recipe and photo courtesy of joyfoodsunshine 
★★★☆☆ You will catch yourself eating handful after handful and never hesitate to lick the powdered sugar that lives on your fingers when you're done. 
Dark chocolate candy cane cookies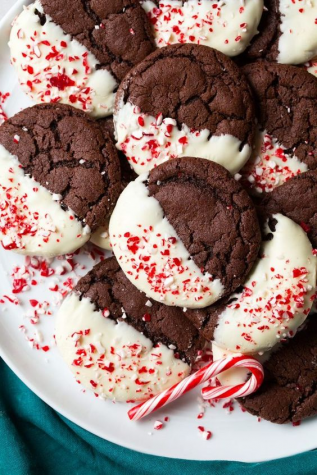 Start to finish: 1 ½ hours 
Servings: 44 cookies 
Ingredients:
1 ⅔ cups all purpose flour 

1 cup unsweetened cocoa powder 

1 teaspoon baking soda

½ teaspoon salt 

1 cup unsalted butter, softened 

1 ¼ cups granulated sugar 

3/4 cup packed light brown sugar 

2 large eggs 

2 teaspoon vanilla extract 

1 teaspoon peppermint extract 

16 ounces chopped white chocolate
Preheat oven to 350 degrees, line cooking sheets with parchment paper 

In a medium bowl, whisk together flour, cocoa powder, baking soda. and salt. Then, set aside. 

In a small bowl, mix with an electric mixer, butter, granulated sugar and brown sugar until well combined. 

Mix in eggs one at a time, and then blend in vanilla and peppermint extract.

Slowly add in dry ingredients to the wet ingredients with the mixer set on low. 

Scoop the dough out and shape into balls.

Space the dough 2 inches apart on the sheet. 

Bake for 8 minutes with your oven at 350 degrees. 
White chocolate 
Melt white chocolate in microwave safe bowl in 30 second increments 

Dip half of the cookie in white chocolate and transfer to parchment paper 

Sprinkle with peppermint bits 

Enjoy!
Photo courtesy of cookingclassy
★★★★★ You can never eat just one of these cookies. Five is probably not even enough. These are the perfect mixture of peppermint and chocolate, and the sprinkle of candy cane gives you a crunch that is irresistible. Make sure you eat these when they are warm because they will melt in your mouth. 
Christmas turtles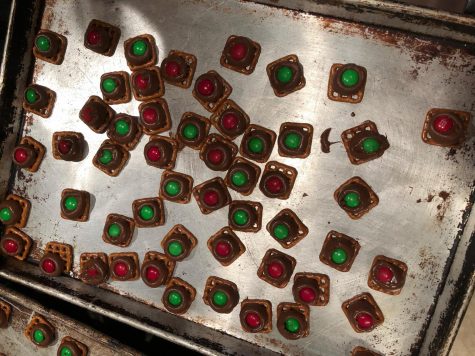 Start to finish: 10 minutes 
Servings : 4-5 servings 
Ingredients: 
Place rolos on each pretzel and pop in the oven for 2 minutes. 

Once out of the oven, place M&Ms on each rolo.
★★★★★ The best part of this recipe is that it is so easy and customizable. You can use all different types of candy. They are eaten in about the same type it takes to make them as well. These are perfect for kids and a mess-free recipe.
Leave a Comment