Stephanie Canada stands behind her booth, head deep in tortillas and chips. After a brief 'hello' she starts naming off products and memorized ingredients, talking fast like an auctioneer. She goes from item to item, tossing each lightly when picking them up, giving them a gentle spin. From weight watcher points, to calories, to carbs, Stephanie listed each like it was a native language, adding extra emphasis on the baked, not fried, chips. Afterall, The Salsa Texan is "known for the fact that everything [they] have is gluten free, fat free and preservative free, but not taste free," she says. 
Stephanie got involved with the company around a year and a half ago when she met the chef at a market. Having type two diabetes and celiac disease, the chef refused to stop snacking, so he made a way that he could. And The Salsa Texan was born. Working full time during the week, she takes her weekends to sell and represent The Salsa Texan.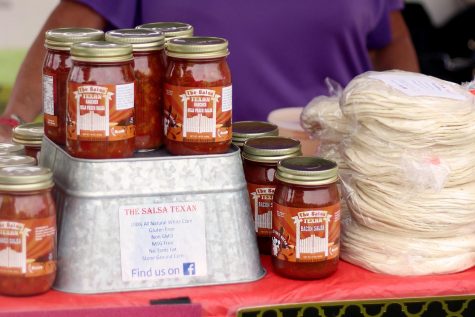 "I work in a law office during the week, so people don't want to give you money there. Here, people are happy to buy and give you money," she says with a laugh. 
After the seasonal markets shut down, Stephanie finds herself behind Willow Bend Mall every Saturday selling at a year-round market. She's seen repeat customers and heard countless stories of satisfied customers, and their new ability to eat food they enjoy inside of their dietary restrictions. 
"[Seeing] the repeat customers and to see the people who come back that haven't had flour tortillas in ten or fifteen years, and they can actually have them," she says. "I've had a customer rip open the bag and start eating them in front of me. To see them be able to enjoy something they haven't had for years is really very rewarding." 
Mid conversation, a customer in line interjects, gesturing at the tortillas, "those are excellent," he says. "We're repeat customers," he adds, pointing at him and his wife who was fighting her way to another bag of chips. Stephanie rings up the wife, making small talk about their purchase. 
As the couple walks away, the husband turns around once more, stuttering on his words but grinning and excitedly says, "And, they're low in carbs. We have two type one grandkids, so they can eat more chips." 
They walk away and Stephanie resumes. 
"He just verified what I said," she says. "That's one of the rewarding things that the customers come back and tell me that it's not just me making that up and telling people,"
Even though the markets can be a, "pain in the butt," getting up early, Stephanie believes those stories are her reward.
"You get to know them, it's just fun," she says. "They come to me with their stories and I can then tell their stories to other people."