Leopard Look: Rosemary Archer
Junior Rosemary Archer received a D1 scholarship to Pepperdine, a college in Malibu, Calif. to play volleyball.
At a Glance
Favorite Color: Pink
Favorite TV Show: "Vampire Diaries"
Favorite Fast Food: Whataburger 
Favorite Hobby: Volleyball
Looking Deeper
The Red Ledger: How long have you played volleyball?
Rosemary Archer: Well, I did gymnastics competitively pretty hard core until fifth grade. I started training with an old Olympic coach once a week in third grade, but I never really took it seriously. I was like "Oh well, I'm not really gonna play volleyball." But I ended up quitting gymnastics in fifth grade, and I started club volleyball. I wasn't very good, but it was fun and then I just kept going with it and then ended up where I am now.
TRL: What clubs have you played for?
RA: Well, I started at Excel. I was on their second team, and then I ended up moving to a club called Madfrog. I was on their second team. Then I moved to Skyline, and I was on their second team. I moved to TAV after that. I was on their second team, and then I finally made the top team the next year. I just kind of kept progressing.
TRL: When did you hear about your scholarship to Pepperdine?
RA: I've been talking to Pepperdine since my freshman year. They're the first people to ever talk to me about college volleyball. They scheduled a phone call on Sept. 2. It was during my practice too, so I had to leave a little early. I was just shocked [when I got the offer]. I was like "Oh my god I can't believe this, it's happening." Then I just announced it the day later.
TRL: Were there any other schools that were interested, or was it just Pepperdine from the beginning?
RA: Some other schools I was talking to would pressure me into making a decision, and I just realized like "Oh, do I really want to go there if they're pressuring me, and is it really the right school for me?" So I realized that Pepperdine's an amazing school, and I can really see myself there versus these other schools.
TRL: When you started volleyball, did you think you were going to play in college?
RA: No, I did not. But then [I saw] my sister, who is four years older than me, go through the same process as me, and she is a setter at North Carolina right now. She played in college, so that kind of was a wake up call for me. I was like "I really want to do this." So that gave me a little nudge to keep trying.
TRL: How has your family supported you playing in college?
RA: My whole family's a big volleyball family, and I think it's just a great thing to have for your future not just the volleyball but the academic standpoint. I'm getting a scholarship which is saving a lot of money. My parents and family all come to my games, and then they can come visit me in Malibu if they want to.
TRL: What factors contributed to you choosing Pepperdine?
RA: It's very pretty; it's right on the beach. It's sitting right on top, so you can look over and see the beach. It's a really smart school, and it's small too. It's a big Christian school so I think it's a nice fit for me and the volleyball is amazing.
TRL: What did you have to do to get the scholarship?
RA: It was a very long, draining process. I need to start way back to freshman year. We were allowed to talk to all the college coaches. Then the NCAA made this rule where you couldn't talk to them until June 15 your sophomore year, so we had this long dead period. When June 15 came around, it was hard because of COVID-19. We couldn't go take our official visits to go look at the school or talk to the coaches in person. I had to do three Zoom calls a day talking to different college coaches. As a few months went by, I started to narrow down my choices; I knew that I needed to stop going to all these Zoom calls that are unnecessary. My family went down to California and visited Pepperdine just because we wanted to. It helped me make the choice also.
TRL: What hopes do you have for the volleyball season?
RA: My hopes are to make it to the NCAA tournament which [the Pepperdine volleyball team has] before many times. I also hope we win our conference. I've already met some of the players. One of the outsides [that] committed there goes to Highland Park, and we just played them which was really fun. She's a great hitter, so I hope we can make a difference on the team over there.
TRL: How did you feel when you found out about the scholarship?
RA: I was shocked. I couldn't believe I had actually [gotten] to this point. I didn't know what to say, but I really just committed right away. I was like '"Okay yes, yes, yes, yes, yes, yes."
TRL: What do you love about volleyball?
RA: Just being a part of a team and knowing that on the court, you're making a difference. I guess winning those big games is really fun, and having a strong connection with your teammates makes a difference.
TRL: How have the volleyball coaches in your life helped to prepare you?
RA: In club, they never gave up on me because I wasn't very good. They kept working with me and pushed me to be the better person. I got all that training in to make that one team or make that top team and I guess it really showed through. I can trust them and they're not one of those coaches that I'm scared of; I've known them for so long. I had that strong connection with them.    
Leave a Comment
About the Writer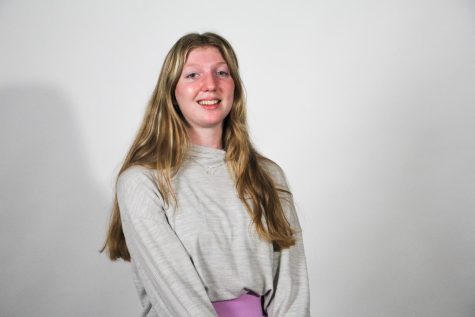 Calla Patino, Editor-In-Chief
Strolling into her third year on staff, senior Calla Patino is ecstatic to be back in the newsroom as an Editor-In-Chief, leaving her summer days of folding...