Ramping it up
Sophomore builds bike course in backyard
Sophomore Luke Farkas stands at the top of the ramp that he built in his backyard. He's been working on it for days now in the sweltering Texas summer heat. He puts on his black helmet, and he's off for the first ride on his homemade bike course.
"I started a few months ago about halfway into the summer," Luke said. "I spent hours at a time each day down there. It was me, a water bottle and a shovel."
He was inspired by a course he visited on an RV road trip this summer, Jackson Hole Bike Park in Teton Village, which is a ski resort that functions as a mountain biking course during its offseason. It uses gondolas to ferry people to the top of the course, so they can ride down again.
"When I came across this bike park I was like, 'this is sick,'" Luke's mother, Rachelle Farkas, said. "You ride the gondola up and it's miles of biking. They have a really great video to show the kids riding, and when I showed it to Luke, his eyes lit up and he was like, 'We have to do that.'"
Luke rode on the course for most of the day, only stopping when he tried to ride on one of their black ranked (highest difficulty level) courses. He flipped his bike. He got his wrist caught in between the wheel and sprained it. 
"We probably rode 30 times with five minutes per ride, then 10 minutes in between each ride," Luke said. "It was amazing. Even though I sprained my wrist, I still wanted to do it. When I got home I tried riding again and fell onto the same arm and reinjured my sprain. It wasn't too bad. it healed pretty quickly after I let it rest."
When he got back home, he wanted to make a course of his own, so he went to his backyard and started to build. He started with a berm, which took 10 to 12 hours. Then he built a ramp, four to six hours. Then he built another berm. Then he built a second trail. A problem, however, was finding a bike to ride.
"We had just gotten rid of our bikes in a garage sale not even a year ago, and then when COVID hits, there aren't any bikes," Rachelle Farkas said. "There's not a stinking bike in town, or even three towns. When we went to pick up a small bike for Luke's sister, there was one other bike at Walmart. It's not fancy. It's like a 100 dollar bike, but it's all we could find."
After a few days, Luke was ready to try out his course for the first time.
"Taking the first ride on my trail was huge for me," Luke said. "I was just hoping it'd work well. I wasn't sure if it was going to hold up. I wasn't sure if there was anything in the way. I wasn't sure if I wasn't going to hit a tree. So, when I rode it and completed it successfully on the first go, I was so happy and thrilled."
Luke continuously adds to his course and practices it. His favorite part of the course is the ramp that has a 20-foot drop.
"You gain a lot of momentum," Luke said. "All that speed builds up really fast and you can sort of feel it in your stomach as the g-force increases. [The ramp is] kind of like a roller coaster that you control." 
Luke is currently limited by the amount of space he has, as well as the bike he is using. Since the bike doesn't have any suspension, it is difficult to ride on for long periods of time or do more extreme rides with larger jumps. 
"Beyond that, it's finding him some better equipment," Luke's dad, Eric Farkas, said. "We're  going to help him out with that, and we'll want him to earn some of the money himself, then we can go from there."
For now, Luke aims to keep working on his course and keep improving with his mountain bike, whether it's turning into a berm or going down a ramp.
"It comes naturally, which is why I fell in love with the whole mountain biking thing in the first place," Luke said. "It lets me press the borders of what I think is possible, and it really lets me test the limits of what I can do."
Leave a Comment
About the Writer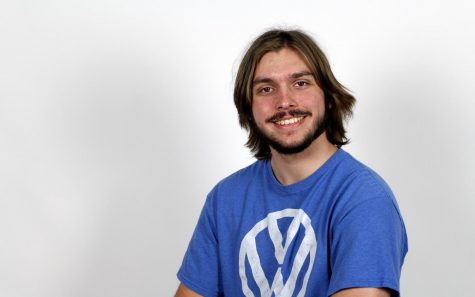 Mathias Alling, LJP Staff
Junior Mathias Alling is entering his third year on The Red Ledger as a section editor. He can often be found riding his bike at six in the morning, at...