Dare to draft
Former LHS football player Aaron Fuller drafted to NFL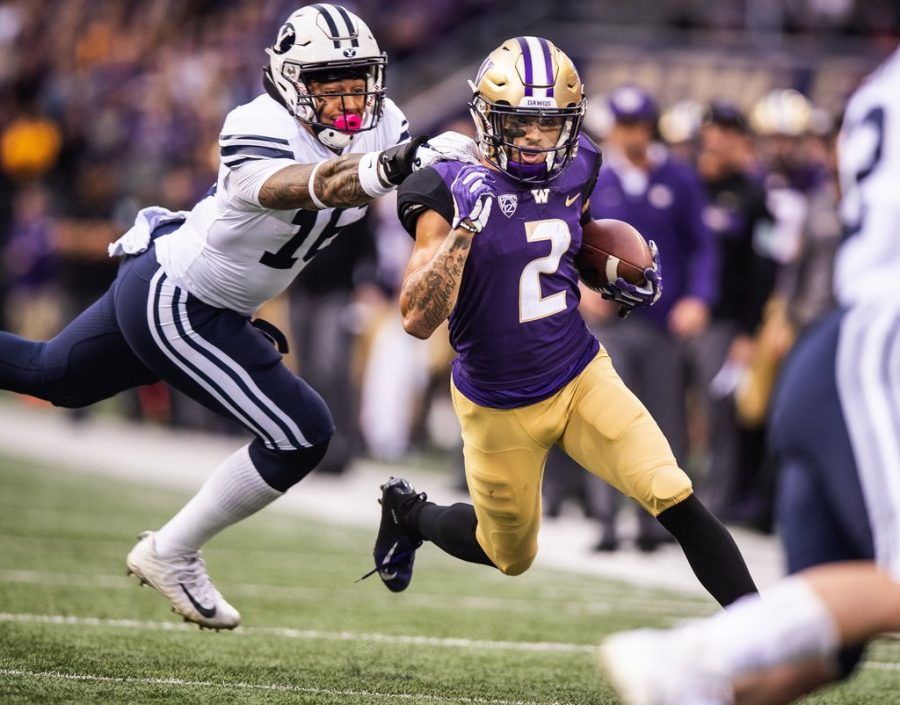 A sigh of relief swept over Aaron Fuller when he was contacted by the Seattle Seahawks 25 days ago. It wasn't relief because he finally had the opportunity to be drafted after playing football for 17 years. No. It was relief because he would be playing for a team he already knew so much about. He has been preparing for the moment since he was 5 years old, working hard to pursue his goals and the chance to play in the National Football League. 
Former LHS football player Aaron Fuller signed with the Seattle Seahawks as an undrafted free agent a few hours after the 2020 NFL draft commenced on April 25.
"[I heard] that I'd be a mid to late pic but due to this being such a great receiver class there was a chance that I'd slip to being an UDFA," Fuller said.
Seattle only drafted one wide receiver in the draft, Freddie Swain. Fuller will play the role of wide receiver and punt returner for the team. A four year starter for the University of Washington, Fuller played college football only a few minutes away from where the Seahawks play. 
"[I was] relieved [when Seattle drafted me] because I was going to go into a situation where I knew a lot about the team," Fuller said. "[I] knew I had a good chance of making the team there. [I was] excited because my dreams were starting to come true."
Fuller began playing football in kindergarten and went on to play for three full years on varsity for the high school. His junior year, Fuller was ranked number one in receiving yards (1,319), yards per catch (20.9) and touchdowns (20) going into playoffs.
"Aaron has always been a tremendous athlete," former high school quarterback Dakota Michaels said. "His athleticism growing up was in that 'freaky' category that not a lot of people can say they were at. He had a lot of God given talent that he coupled with hard work that led him to this point. Aaron has always been a great student of the game." 
Fuller's offensive coordinator at the high school, Ryan Priem, compared the way Fuller approached practice to Michael Jordan in "The Last Dance." 
"He was always locked in and treated [practice] like the most important thing in the world," Priem said. "He brought the team first attitude as the best player on the team. That made every other player on our team look at themselves and say 'If Aaron is practicing hard, then I better practice hard.' [Fuller] knew he was the best player on our team and he practiced the same way."
Leading up to the NFL combine, Fuller trained at the Michael Johnson Performance Center (MJP). Fuller was put on a strict diet and schedule. At MJP, he focused on his speed and explosiveness for the two months leading up to the combine.  
"Every time [Fuller] would step on the field he was a top three player in that football game," Michaels said. "He is a very smooth and fluid athlete, he makes things look easy that shouldn't look that easy. When I was at quarterback Aaron made my job a whole lot easier. There weren't too many, if any, high school defensive backs that could guard Aaron. And if they wanted to put a safety over the top or shade that way, it would just open up things for the teammates around him."
According to Priem, Fuller put the team's success first and his second. 
"Aaron has never been real loud and he liked to lead by example," Michaels said. "Other players loved to follow Aaron and play beside him. A lot of [players] looked up to him because he was such a great player. Aaron helped lead the younger guys and set a great example for them to strive for when they played."
Coaching a player of Fuller's caliber taught his high school offensive coordinator two qualities. 
"[Fuller] forced me to be creative with new plays specifically for him," Priem said. "This made me get out of my comfort zone of running the same plays each week. We would find new ways to get him the ball each and every week. There was always something new each week. He [also] gave me supreme confidence in him that when we needed a big play we called a play specifically for him, and more times than not he would deliver."