A point above the rest
Senior Mason Hutchins commits to West Point
When senior Mason Hutchins saw that he was accepted to the United States Military Academy(USMA), he was ecstatic. He spoke to family and friends on the phone, sharing the good news. Then his acceptance disappeared, and he freaked out. Maybe his name wasn't meant to be there?
"I rarely see Mason panicked," Derick Hutchins, Mason's father, said. "But at that moment, the look on his face was of sheer panic."
Derick asked Mason to show him the purple "accept" button, but it was no longer there. "It's gone," Mason told Derick. Derick asked if Mason was looking in the right place, and Mason said he was sure that he was and that the green offer box was gone too.
"I saw [the acceptance] go away and I was like was it an accident? What's going on?" Mason said. I actually had a visit [to USMA] that weekend too, so I went up there without having any idea about what was happening."
While at USMA that weekend, an email appeared in Mason's inbox from a do-not-reply address. The email told Mason that he, and the other 500 or so applicants whose appointments disappeared, had received real appointments. There had been an IT glitch, so USMA's decisions came out five days before schedule, before Congress members could personally notify and congratulate the students who they chose to nominate.
The next Tuesday, Feb. 11, appointments went back up. On Wednesday, U.S. Rep. Nicholas Van Taylor called Mason and gave him a little speech to congratulate him. 
Mason remembers little of that speech. In trying to remember the call, he laughs and describes himself as "so shaken at that point" that the contents of the call sort of jumble together beyond a congratulations, a thank you for signing up, and an offer for Mason to reach out should he need anything in the future. 
Receiving a nomination from Representative Van Taylor was just one small part of Mason's application process. 
"For so long, [an appointment to USMA] was so far off," Mason said. "There's so many things you have to do to get qualified. To even be considered for admission, you have to be qualified physically, academically, and medically, and have a nomination."
Mason applied for nominations from U.S. Rep. Van Taylor and Sen.Ted Cruz and Sen.John Cornyn. He took a fitness test. He went through a series of medical and vision examinations. He submitted supplemental work because of a benign tumor. By Mason's best estimate, he wrote about 20 essays, some of them for West Point, some for the Naval Academy. On top of that, there were the normal college requirements: a good GPA, a great SAT score, and excellent grades. It took Mason five months to complete his application — from August to January. Throughout most of high school, Mason didn't imagine that his admissions process would look anything like that. 
"Over the summer before my senior year, I was researching colleges, and at first I just wanted to go to A&M with all my buddies or go play baseball at somewhere like UTD," Mason said. "But, I was working with a coach one day and he was like 'you've got the academic and leadership stats for it, why don't you want to do something more than just go to a state college?'"
Mason was open to the idea, so the coach, Kolby Stapel, suggested he look into West Point. After researching the school, he started the application in late summer. 
"
I think it was harder on my parents than it was for me — that decision — because I don't know, it's their kid. But in my opinion, if I'm not willing to do something, how can I ask someone else to give their life for my freedom and my country if I'm not willing to do the same for other people?"
— Mason Hutchins
"I was very surprised, actually," Derick said, speaking of Mason's decision to add USMA to his college list of mostly Texas schools. He described his emotions as ranging from "excitement to trepidation."
"A tremendous set of opportunities await and the education is on par with Ivy League schools. But then there is the service component — [Mason] may have to go to combat. He may end up on the front lines. He could end up a casualty."
Mason didn't struggle with those apprehensions the same way Derick and Stacy Hutchins, Mason's mom, did. 
"Signing up for [West Point], I was aware of what was on the other end," Mason said. "I knew that applying was one thing, but actually accepting my acceptance — clicking that button — I knew I was signing up to possibly give my life, and I was okay with that."
Derick and Stacy assuaged their unease in prayer and found comfort in faith about Mason's decision.
"I think it was harder on my parents than it was for me — that decision — because I don't know, it's their kid," Mason said. "But in my opinion, if I'm not willing to do something, how can I ask someone else to give their life for my freedom and my country if I'm not willing to do the same for other people?"
Mason decided to attend West Point, in part, because he wants to do something "bigger than [himself]". With this in mind, Mason hopes to help junior Allie Johnson also do something bigger than herself: get an appointment to the United States Naval Academy. After learning about Mason's acceptance into USMA, Johnson reached out to Mason to see if he'd help guide her through her own application process. 
"To know that he did it, and he can help me potentially do it too, is really important to me," Johnson said. 
Despite not having known Mason for a long time, Johnson is still excited for the opportunities that will be available to Mason because of his appointment to USMA.
"I'm sure he's going to do great," Johnson said. "I'm just really happy for him and can't wait to see what he does."
Mason doesn't know what he intends to major in yet or what he'll do once he's there, other than take advantage of the West Point experience and play baseball for the school. But he does have an idea of what he wants to do after he graduates from West Point. 
"I want to do, probably, intelligence work in the army. I think I'm going to trade in the five [years active service] and three years [inactive service] for an eight year [active service] because that qualifies me for the GI bill, which allows me to get education after that. I don't know what I'm going to study at West Point, but I'm hoping to get an MBA after I finish my contract."
What excites Mason about USMA, other than the opportunities they can provide or his chance to play for them, is the like-minded people he can meet there with the similar levels of motivation. 
"Sometimes, I feel kind of out of my element here," Mason said. "I feel like as in any high school or in any area, there are some people who don't have the same drive or don't have the same passion for the things that they do, but I feel like a lot of the people — or all of the people — that go to West Point have that same exact energy. That [excites me], as well as being able to get that education, since it's [an] extremely high-level education, and [being able to] just start a new experience."
About the Writer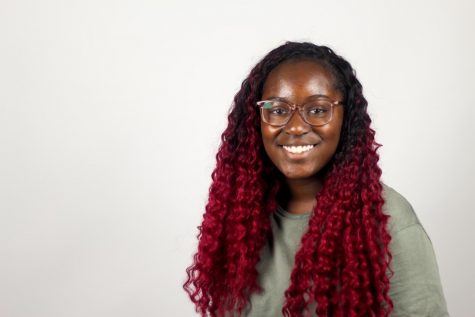 Suvwe Kokoricha, Staff Writer
Senior Suvwe Kokoricha was once the jack of all trades and master of none. She tried everything from soccer to painting lessons to spelling bees (you can...