Baking the (quaran)time away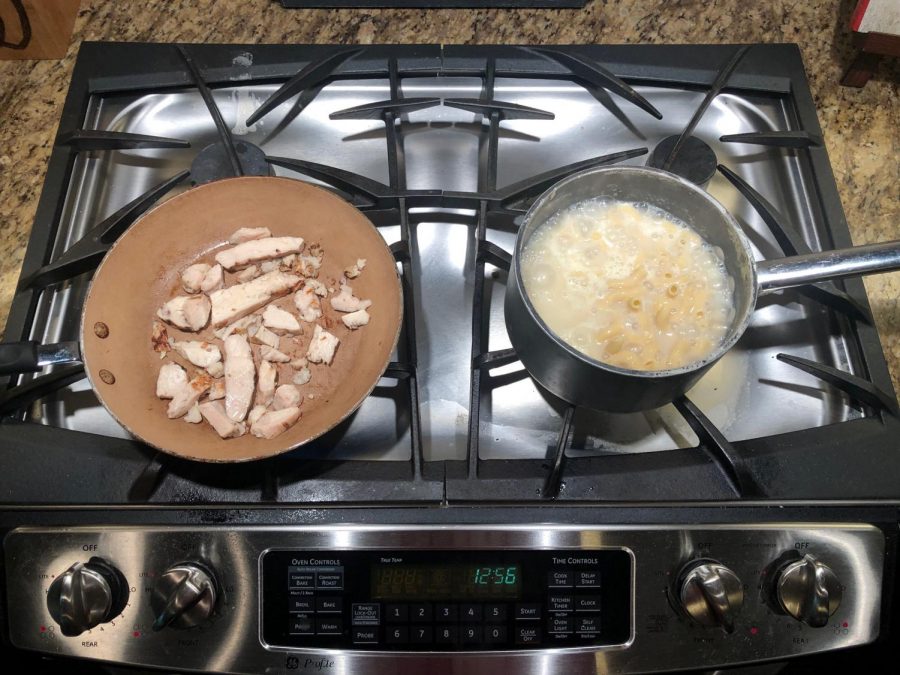 While in quarantine, many families have turned to baking and cooking new recipes for a family bonding activity. My family is no exception. Here are a few of our favorite eats.
Banana Pancakes
Start to finish: Approximately 10 minutes
Servings: Eight  
Pancakes:
Three bananas

Five eggs

Splash of milk or half and half

1 teaspoon cinnamon
Topping (topping is adjustable to your flavor and consistency liking):
2 tablespoon peanut butter

2 ¼ tablespoon milk or half and half

1 teaspoon cinnamon

2 teaspoons honey
Smash bananas in a bowl, mix in cinnamon, half and half and eggs. You should have a fairly runny mixture.

Mix topping ingredients in a separate bowl.

Pour the pancake batter into a small saucepan and cook on medium heat for about 1 minute per side.

Drizzle or drown the pancakes in topping(s)

of your choice. 
★★★☆☆ The banana pancakes are an easy go-to for breakfast, lunch, or a midnight snack. The minimal time and effort they take definitely makes them favorable. They do taste majority like eggs but the banana undertones are nice. They fall apart easily due to the lack of flour or powdered ingredients however, when they stay together they are quite fluffy. The topping adds a nice creamy touch. 
---
Marshmallow Fudge Bites
Start to finish: Approximately four hours
Servings: 24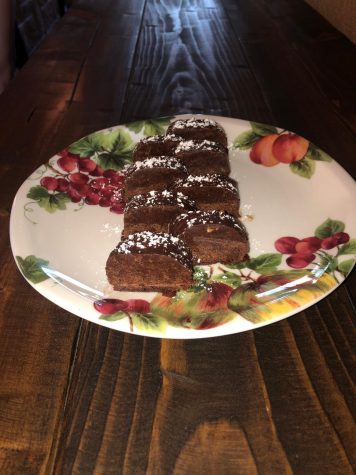 Ingredients:
10-12 ounces mini pastel marshmallows

2 cups semi-sweet chocolate chips

½ cup of butter
Melt chocolate chips and butter in a large saucepan, mix until smooth.

In a separate large bowl, pour the melted chocolate over the marshmallows and mix well.

Cover and refrigerate for approximately one hour, stirring occasionally.

Shape mixture into two 12 inch rolls.

Wrap in wax paper and refrigerate approx 2.5 hours or until firm. 

Unwrap and cut the rolls into ¾ inch slices.
★★★★☆ While minimal effort is required, the marshmallow fudge bites take a while to be ready to eat. Therefore, you have to plan more in advance rather than a quick treat. The bite-sized treats are nice to grab if you just want a bit of sweetness. While the marshmallows bring nice color, you'll notice the consistency of the marshmallows more than you notice their taste. The marshmallow fudge bits are also good melted and drizzled over ice cream. A little chewy but overall tastes good. 
---
Chicken and Broccoli Alfredo
Start to finish: 20 minutes
Servings: Five
Pasta:
2 cups broccoli florets

½ pound wagon wheel pasta

½ cup chicken stock

2 tablespoons unsalted butter

1 ¼ cup parmesan cheese

Grilled chicken, cut

salt
Alfredo Sauce:
 ¼ cup butter

 ¼ cup flour

½ teaspoon garlic salt

2 cups half and half

1 tablespoon dried parsley flakes

2 cloves garlic, minced

 ¼ cup parmesan cheese
Cook the pasta according to directions on the package.

While pasta is cooking, melt butter in a saucepan.

Whisk the flour and garlic salt into the sauce until smooth.

Slowly mix in the half and half into the sauce until completely combined. 

Stir the garlic, parsley, and parmesan cheese into the sauce, whisking continually.

Bring the sauce to a simmer; stir regularly until the sauce has thickened.

Warm the chicken and broccoli in a large saucepan.

Pour drained pasta and alfredo sauce over chicken and broccoli. Mix completely. 
★★★★★ The chicken and broccoli with homemade alfredo is a great option for lunch for the whole family. The homemade alfredo had a good, creamy consistency which pairs nicely with the broccoli. The recipe is perfect for a filling lunch and it was a hands-down crowd pleaser. The shape of the big wagon wheel pasta also brought a fun texture to the meal.
---
Chicken Marsala
Start to finish: 35 minutes
Servings: Four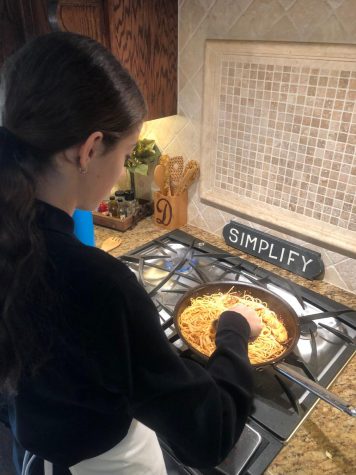 Ingredients: 
6-8 frozen chicken breast tenders

1 tablespoon olive oil

2 tablespoons chicken stock 

½ package of angel hair

4 cloves of minced garlic

½ cup marsala wine

1 ½ cups sliced portabella mushrooms

1 t butter

½ tablespoon thyme

Salt + pepper to taste

¼ cup shredded parmesan 

Parsley for garnish
Add chicken to olive oil and chicken stock in a saucepan, season with salt and pepper. Cook for 10-15 minutes, turning occasionally.

While chicken is cooking, cook pasta per package instructions.

Once chicken is cooked, add garlic to the pan, after about 1 minute add mushrooms and cook until soft.

Add marsala wine and thyme to chicken. Allow time to simmer until sauce reduces and thickens

Add butter to chicken.

Strain pasta and add to saucepan, mix until pasta is well coated, season with salt and pepper.

Serve topped with parmesan and parsley.
★★★★☆ Chicken was a little bit dry but still enjoyable, the recipe could use a bit more sauce. It is fairly easy to make but it does take a bit of time. While the angel hair was good, zucchini noodles could be substituted for a healthier option. I had a strong garlic flavor as well. 
---
Chocolate Lava Mug Cake
Start to finish: 10 minutes
Servings: Two
Ingredients: 
¼ cup all-purpose flour

¼ cup white sugar

2 teaspoons unsweetened cocoa powder

⅛ teaspoon baking soda

⅛ teaspoon salt

3 tablespoons milk

2 tablespoons canola oil

1 tablespoon water

¼ teaspoon vanilla extract

2

tablespoons

semi-sweet chocolate chips

3

tablespoons

white chocolate

1

tablespoons

half and half

Cinnamon (optional)
Mix the white chocolate and half and half, and then put it into a single ice tray cube, freeze it.

Mix all of your other ingredients into a large coffee mug.

Once your white chocolate cube is frozen, press it into the mug so that it is smothered in chocolate. Try not to touch the bottom. 

Cook in the microwave for 1 minute and 45 seconds. 

Eat out of the mug or once cooled flip the cake onto a plate. 
★★★★★ This chocolate lava mug cake is super quick and easy to make. While it can comfortably serve two, it is also perfect for a personal size. The white chocolate cube does add a couple of minutes to the total time but it can easily be taken out and the cake will be just as good. The cake is super moist and almost bouncy. I highly encourage enjoying it with a glass of cold milk. The white chocolate cube that spills into the cake when cut open is the perfect touch.
About the Photographer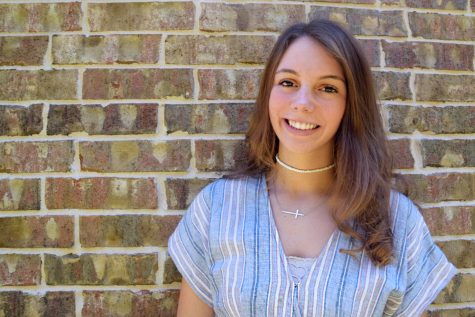 Katie Dolberry, Section Editor
Heading into her second year on staff, senior Katie Dolberry is excited to take on the role of sports editor and photographer. She would like to pursue...