Celebrating change amidst COVID-19
Ramadan fasting will begin on April 23 and end on May 23 this year. For Muslims, this lunar month is a sacred time to focus on bettering one's self as well as to celebrate with family and friends. 
"The month of Ramadan is basically a month of cleaning your soul," junior Sahar Khan said. "You're just trying to be the best version of yourself."
That spiritual self-improvement is believed to come from the sacrifice it takes to go without food and water until night everyday during the month. At the end of the daily fasts, families come together to break their fast. This year, that tradition, as well as some others will have to be altered as a result of COVID-19.
"The mosque is closed down," sophomore Maya Ashfour said, speaking of the mosque she attends, Islamic Association of Allen. "Usually, we go to this thing called Taraweeh. Basically, it's a nightly prayer every single night during Ramadan that we can go to. But now since we can't, it's definitely going to be different, and overall we're going to have to cope with staying home. Usually we meet up with family for dinner to break our fast at sunset, but we can't do that anymore because we can't have any gatherings. So it's definitely going to be different." 
The days without school will also have an impact on students' Ramadan fasting this year.
"I'm excited to see how this year's Ramadan will turn out," senior Daiyan Chowdhury said. "Normally with school at least my mind was distracted without hunger, but I guess now I'll have to rely on sleep."
COVID-19 will also change how Eid al-Fitr, the celebration to break the fast at the end of Ramadan, will be celebrated. Normally, it's a time to gather with extended family and friends. Different cultures and different families have different Eid traditions, but they all celebrate the end of Ramadan. For Khan, the best part of Eid is the clothes.
"The outfits — that's the best part of every Eid," Khan said. 
The dresses Khan, whose culture is Indian, wears on Eid are in the style of sharara dresses.
"[My favorite one] is pink," Khan said. "It has golden embroidery on the sleeves and on the hem of it. It has a huge skirt, and if I don't wear heels [with] it, I physically won't be able to walk. It's heavy because it wasn't originally mine. I think it was my mom's or my aunt's." 
Wearing nice clothes, whether they relate to a specific cultural tradition is a part of Eid celebrations. Ashfour, who is half Lebanese and half Syrian, doesn't wear a specific style of dress for any part of Ramadan or Eid apart from an abaya she wears at the mosque. A more popular Eid tradition is gift-giving. Senior Daiyan Chowdhury's favorite gift was at the expense of his uncle a few years ago.
"I bribed my uncle [to give me] his special watch," Chowdhury said. "That was something I wore for years when I was a kid. It was really fancy too, so I felt honored walking around with it."
The cost of that bribe? Changing his one-year-old cousin's dirty diaper. Neither Ramadan nor Eid will be the same this year, but whether the mosque is open or not, Ramadan is still important to the Islamic faith.
"I think [Ramadan and Eid] will hold the same amount of importance since the goal and purpose is for the greater good," Chowdhury said. "Although one of the best things about Ramadan is going to the mosque, I think that having this time with the family is pretty important as well, especially since we are all at home now instead of work and school."
Leave a Comment
About the Contributor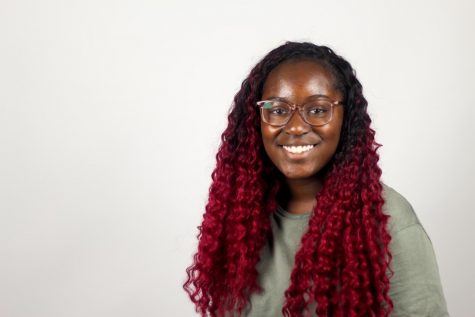 Suvwe Kokoricha, Staff Writer
Senior Suvwe Kokoricha was once the jack of all trades and master of none. She tried everything from soccer to painting lessons to spelling bees (you can...