'Drawn in'
Senior Carol Xu wins outstanding performer award for violin solo
C# D A# B F# G F#. Seven parts of a code — senior Carol Xu's Outstanding Performer -winning code for a competition in which judges pick their favorite pieces and present them as one of the best. 
"On behalf of the University Interscholastic League please allow me to congratulate for being selected as an OUTSTANDING PERFORMER at the 2019 Texas State Solo-Ensemble Violin Solo Contest," Dr. Bradley N. Kent, State Director of Music, wrote to Xu. 
Xu first heard those congratulatory words in her orchestra class period as the orchestra director, Jennifer Vanhook read the letter aloud to the entire class. The letter went on to emphasize just how much of an accomplishment being chosen as an Outstanding Performer is.
"Of the approximately 100,000 students participating in the regional UIL music contests and the 25,000 musicians who performed at TSSEC, only 2%-3% of the solo performances earned the distinguished honor of being recognized as an OUTSTANDING PERFORMER," Kent wrote. "This achievement is truly a mark of musical excellence."
Xu competed for this award months prior to her notice of the accomplishment.
---
With an accompanying pianist behind her, Xu begins to play the First Movement of Saint Saen's violin Concerto No. 3. She has worked on this piece for months, all for this moment. 
"I started learning it last summer — not the summer before senior year, but the summer before junior year — at the very beginning of that summer," Xu said. "And then, I had a master class on it for a week at a camp, I think in July-ish." 
The first time she ran through the piece, it wasn't as accurate or emotional.
"It was kind of rushed also because I wasn't really prepared for that recital, but then the second time a couple months later when I went back to it, of course the performance was more accurate," Xu said. "It was cleaner. Of course there was more thought put into every phrase and stuff like that."
Deeper levels of emotion entered the concerto the more she played it. 
"There's more thought put into every phrase," Xu said. 
The new assistant orchestra director, Christopher Lettie, has noticed Xu's emotional style of playing and can imagine her going far with it.
"I think I'm just getting [her playing] at the tail end where she's really starting to blossom into a fine, professional-quality musician," Lettie said. "Carol's one of those who is constantly touching base visually with the podium while also leading the section so it's a really complicated task really to be first chair violin."
Xu's talent has been noticed by more than just the orchestra directors.
"I enjoy listening to Carol play because she produces a strong and expressive sound, which makes the audience more drawn in to her playing" junior Michelle Wang said.
Talent isn't the only thing that helped propel her towards her position as an Outstanding Performer.
"With anything, if you work on it for that long, of course you're going to get tired," Xu said. "But also the reward of getting it polished and making it sound good is — it's very rewarding when you reach the end," Xu said.
The end came for Xu when she received notice of her accomplishment the second week of school.
Despite the praise and validation, Xu chooses to remain humble about her achievement.
"Honestly, I don't think it's that big of a deal," Xu said. " Solo and Ensemble is not a priority of most people [in orchestra]."
In fact, the competition wasn't a priority for Xu at first either.
"I actually didn't even want to go to state this year and then my quartet convinced me to go," Xu said. "And the real reason [I didn't want to go] was I didn't want to miss a grad party, but, I mean, I got this out of it, so…" Xu said, smiling, pointing the letter.  
Leave a Comment
About the Contributor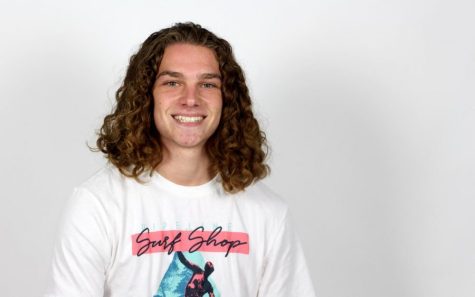 Jake Piccirillo, LJP, Co-Executive Producer
Senior Jake Piccirillo enters his third year on the broadcast staff. He is excited to be a part of the executive staff this year and work with all the...