Mind of a mathematician, eye of an artist
Hidden in room B223, there not only lies a calculus teacher, but an artist. Amid the desks with stacks of textbooks, Keith Christian's photographs decorate the walls with sights from not only America, but France, Italy and England as well.
Despite Christian's professional focus on the STEM field, he still has a love of photography as an art form.
"I guess in a lot of ways it is a good mixture between the left-brain part of me that likes being technical and accurate and the right-brain part of me that likes the creativity," Keith
When Christian's student senior John Dorlon  stepped into his class for the first time at the beginning of the year, he was surprised to learn that much of the decor in Christian's room was created by him.
"His pictures are just so good [that] I automatically assumed that they were all professional," Dorlon said. "My favorite picture in his room is of fireworks going off. The colors just pop out at you and there's a lot of contrast with the sky. There's also a picture he took on a trip that I like; there's a house with a sign on it that says 'se renta.' Both look like something professionally done."
Keith takes photos every time he takes a trip, but he also devotes time to his hobby at home. One of his longest projects at home was a year-long project in which he made sure to take photos daily.
"Last year, I actually, had a project for the year that my goal was to take a photograph a day for the entire year and to not take things for an artistic point of view, but to take just things that make me happy," Keith said. "So I have a folder now of 365 pictures from last year that I really enjoy."
A lot of  Keith's photos are taken in his own backyard.
"For the kinds of pictures that I like to take the place I go to most often is just my own backyard," Keith said. "My wife and I garden a lot so I take a lot of pictures of flowers in bloom and that sort of thing."
It's not necessarily the love of nature that fuels Christian's love of photography. In fact, his love of photography eclipses his love of other hobbies.
"[Photography] has continued to be his biggest hobby throughout the years," math teacher Deneen Christian, Keith's wife said. "He even set up his own darkroom in our bathroom when our kids were little."
One of Deneen's favorite pictures taken by Keith is one from a trip to Paris.
"There's one that he took of the Eiffel Tower," Deneen said. "We went to Europe together after we had been married two years, and we had to wait for it to get dark — 'til about 10 o'clock at night. And he actually put his camera on my head because we didn't have a tripod to steady [the camera] to take a picture of the Eiffel Tower."
Leave a Comment
About the Writer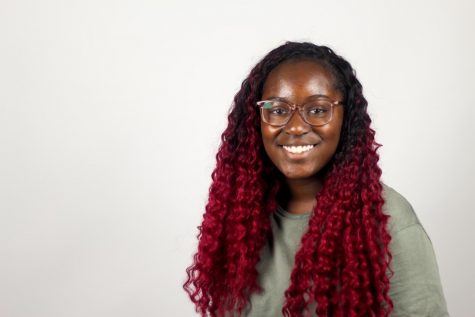 Suvwe Kokoricha, Staff Writer
Senior Suvwe Kokoricha was once the jack of all trades and master of none. She tried everything from soccer to painting lessons to spelling bees (you can...