Senior Brian Wolfe to conduct kickball tournament for Alzheimer's Association
In attempts to raise proceeds for the Alzheimer's Association, senior Brian Wolfe is hosting a kickball tournament on Saturday, Jan. 5 at 12 p.m. at the football field. The team entry fee is $100 for nine to ten players, and participants can sign up at the Garvelene Kickball Tournament's official website.
Wolfe said he was inspired to raise awareness to Alzheimer's because his grandmother Garvelene, who is the namesake of the tournament, was directly affected by the disease.
"My grandma actually had Alzheimer's, and she struggled with dementia for twelve years before passing away," Wolfe said. "To me, this is kind of a personal event, so I'm trying to raise the money so it can go to the Alzheimer's association."
Wolfe said he hopes his tournament can have a positive effect on the community and expects a strong turnout.
"I want the tournament to be something that brings the community together," Wolfe said. "As high schoolers, we all want to go out and find things to do, so I thought a kickball idea would be a popular idea."
The tournament's slogan is to "give Alzheimer's the boot," and t-shirts will also be on sale to provide additional proceeds for the Alzheimer's association.
Junior Lily McCutcheon, a team captain in the tournament, applauded the cause behind the tournament.
"I think it is awesome that Brian is doing this tournament to raise money for a sometimes overlooked disease because it mainly affects the older population," McCutcheon said. "I want to participate in this tournament because I want to be a part of the change that cures Alzheimer's."
About the Writer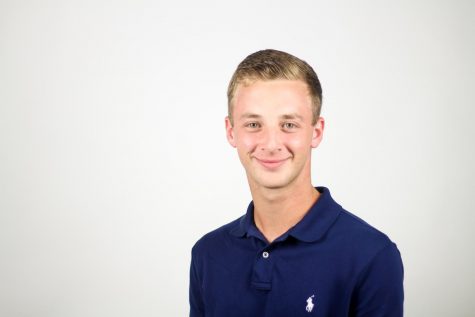 Benjamin Nopper, Section Editor
After joining staff and becoming an editor his sophomore year, Benjamin Nopper is enthusiastic to spend his senior year in the newsroom he considers...