Travelers to Texas
Tim and Annastacia Daugherty come to the school after years of adventure
Police surrounded their taxi in Cambodia as social studies teacher Tim Daugherty and his wife, English teacher Annastacia Daugherty, were locked inside.
The taxi driver was fighting the police who were trying to get Tim and Annastacia out.
"Frequently tourists were getting kidnapped and held at ransom until you paid them the certain amount then they would actually drive you to the place," Tim said. "The government was cracking down on it and had stopped all taxis from driving and that is what was going to happen to us."
The thwarted abduction in Southeast Asia was just one of many experiences the Daughertys have had during their global travels, as well as the time they've spent living overseas in South Korea and the United Arab Emirates. But their story began in Bourbonnais, Illinois, where the two met on the campus of Olivet Nazarene University.
"It was a very nerdy romance story that takes place in the library," Annastacia said.
While Annastacia worked in the library, Tim studied at the farthest table away from her desk. The more they grew to know each other, the table Tim chose to use as a study desk steadily grew closer to the area where Annastacia worked.
According to their matchmaker, Annastacia's roommate, Tim was the male version of Annastacia.
"By the time we were dating he would always study at the table right across from me," Annastacia said.
Shortly after getting married, they moved to South Korea then the UAE. Being teachers in both countries, they taught a range of subjects including English, social studies and all the major subjects.
"In the UAE, I taught at a government school," Annastacia said. "So I drove like an hour out into the desert. My school was tiny. I taught ninth through 12th grade and all classes were less than 10 students."
In South Korea, Tim and Annastacia would take their moped to work. Being among the only foreign teachers, they taught just across the street from each other which made their experience less intimidating.
"South Korea was amazing, but it was very culturally different in the language," Tim said. "English wasn't spoken as much."
With 2-year-old son Owen who was born overseas, the Daughertys decided to return back to the United States in the spring of 2017. With nothing but pictures and the internet to help them decide on things like jobs and a house, the Daughertys started their new life in the United States last summer.
"We had to do all of our interviews overseas so, all my interviews were through Skype," Annastacia said. "I had not ever set foot in the school."
As they taught across the street from each other in South Korea, the pair still works in close proximity to each other as Tim teaches history in B213 and Annastacia has English and Spanish just downstairs in D124.
"It was kind of crazy, but then just amazingly it all worked out," Annastacia said. "There are not many points in your life where you give up absolutely everything and start from scratch especially with a 1-year-old."
Leave a Comment
About the Writer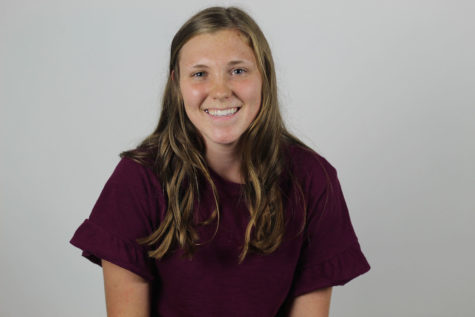 Carly Ludlow, Staff Writer
Junior Carly Ludlow was born and raised in Texas. She is new to The Red Ledger staff this year, but she was first introduced to journalism her sophomore...