Featured Athlete: Tyler Van Wagoner
Senior Tyler Van Wagoner participates in competitive cheerleading. Last year, his team won the Grand National Competition in Dallas.
At a Glance:
Experience: 4th season
Greatest accomplishment: Winning the Grand National Competition in Dallas last year
Favorite tumbling skill: Front handspring and front full through the double
Team: Cheer Athletics Cheetahs
Favorite team activity: Swim parties
Favorite memory: Getting the call to join Cheetahs because they're currently ranked the best team in the world by USASF cheer
Looking Deeper:
The Red Ledger: How did you get into cheer?
Tyler Van Wagoner: My [gymnastics] gym had shut down after being [open] for 12 years, and so I was moving from gym to gym all over the metroplex just trying to see what gymnastics program could offer the same thing I had [at the previous gym]. Eventually, I just got tired of looking for a place to do gymnastics, and so I eventually decided to do cheer because it's similar tumbling-wise to gymnastics, and I became really good at it.
TRL: How often do you train for cheer?
TVW: We practice three days a week, normally three hours a session, but once we get to the peak of our season, we'll be practicing everyday for three hours still.
TRL: How do your friends and family support your cheer career?
TVW: Since my mom used to be a Dallas Cowboys cheerleader, she's all about it. My dad cheered in college for SMU, so my family is all very supportive of it.
TRL: Do you hope to cheer in college?
TVW: Hopefully I will be able to cheer at [the University of] Alabama or TCU and be able to cheer for my brother [TCU wide receiver Chase Van Wagoner] on the sideline.
TRL: What are your goals for the upcoming season?
TVW: Hopefully we'll be back to back world and grand national champs because we want to be able to hold that title.
TRL: What are you doing to improve for the upcoming season?
TVW: Since I will be doing one of the hardest routines I've ever done, I've been training extra by coming into the gym on days that we don't have practice. I've also been perfecting all of my tumbling and stunting skills and making sure my cardio and conditioning is where it needs to be in order to do a full routine.
TRL: What is your job in the routine?
TVW: I'm a base, so I'm the one who throws the girls and catches them. Everybody tumbles, so I have a certain place in the routine where I can do my own tumbling pass as well.
TRL: What are the hardest things to perform?
TVW: Coeds, which is where it's just me and a flyer, and I have to throw her in the air to where she does a certain skill and then catch her. You're relying on her to have good technique so when she lands you can catch her.
TRL: How many injuries have you faced?
TVW: I've only really had a partially torn gastrocnemius–which is your calf. It wasn't anything major, so I just did some therapy for it. Our coaches know how much to safely push us so we don't get injured.
Leave a Comment
About the Writer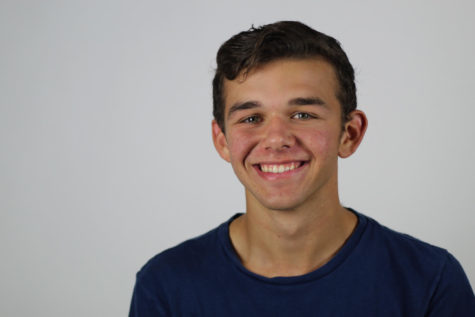 Haydn Spooner, Staff Writer
Haydn Spooner is a senior and first year staff writer for The Red Ledger. After living in and visiting several exotic places such as Argentina and Hawaii,...