Teaching teachers
Terry Eder writes AP music theory textbook to instruct educators
Two years ago, AP music theory teacher Terry Eder was approached by the music editor for the Norton book company to write an AP music theory textbook since he is a College Board consultant. However, he proposed a different idea. Eder said he believed that the company had many efficient textbooks, but they needed a book for the teachers on how to teach the class.
"One of the things that I said to him was that the Norton book company is famous for these textbooks, but they're not very famous for many pedagogical books," Eder said. "I said, 'I think if I were you, I would be looking to do something in pedagogy now because you don't need to have another music theory book.'"
So Eder got to work on writing the book.
"It is what the Norton book company calls an instructional manual," Eder said.
He based the book off of necessary topics and curriculum for the exam.
"I took the topics from the AP curriculum that we needed to be covering, I wrote lesson planning, an overview and some learning objectives," Eder said. "Then I wrote example lesson plans. It was divided into all of [the] different weeks [of the class]."
While Eder focuses solely on AP music theory, many other music theory teachers teach more than just that class. Eder hopes the textbook will make teaching the class easier for those teachers whose focus isn't only the Music Theory class.
"I hope that the teachers can take this book and start right at the beginning and be able to know what you have materials to use every single day in their in their music theory class," Eder said. "That's what it's designed to do."
Eder's experience as a teacher and College Board consultant factored into writing the book.
"I think that Dr. Eder publishing a textbook is really great," sophomore Joseph Harris said. "As one of his students, I know he has a huge amount of knowledge of music and it'll be the perfect use to make a textbook out of it. He'll be able to share his knowledge with not only a small six-person class, but to all music theory students across the country."
Eder's efforts to perfect the book have not gone unnoticed.
"I think that this shows how dedicated he is to his teaching and that he truly knows and understands what he is teaching," junior Sarah Jahnke said.
Though the book seems slim and small, it took a prolonged amount of time to write.
"It took me about a year and a half. The thing that took me so long was making sure that I was using the material that was presented in the textbook," Eder said. "But also showing [teachers] ways that they could integrate that into the AP music theory class of high school."
Principal Chris Mayfield said he was glad to see Eder published the book.
"I was really excited for Dr. Eder," Mayfield said. "He is recognized in his field as an expert, and I was just thrilled that he had the opportunity and that he took it to be published."
So far, Eder said he has experienced good reviews.
"I've seen one review by a high school teacher, and they gave it a glowing review," Eder said, "which I was really happy about because I worked very hard on it."
Leave a Comment
About the Writer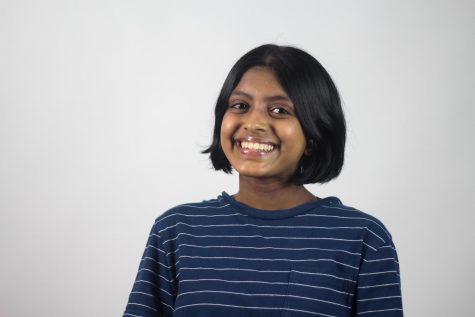 Shivani Radhakrishnan, LNN Executive Producer
Senior Shivani Radhakrishnan has often been described as a bouncing ball of energy. She can at any time be found with her nose in a book or with earbuds...