Braving the shave
Lovejoy mom shaves hair to fight children's cancer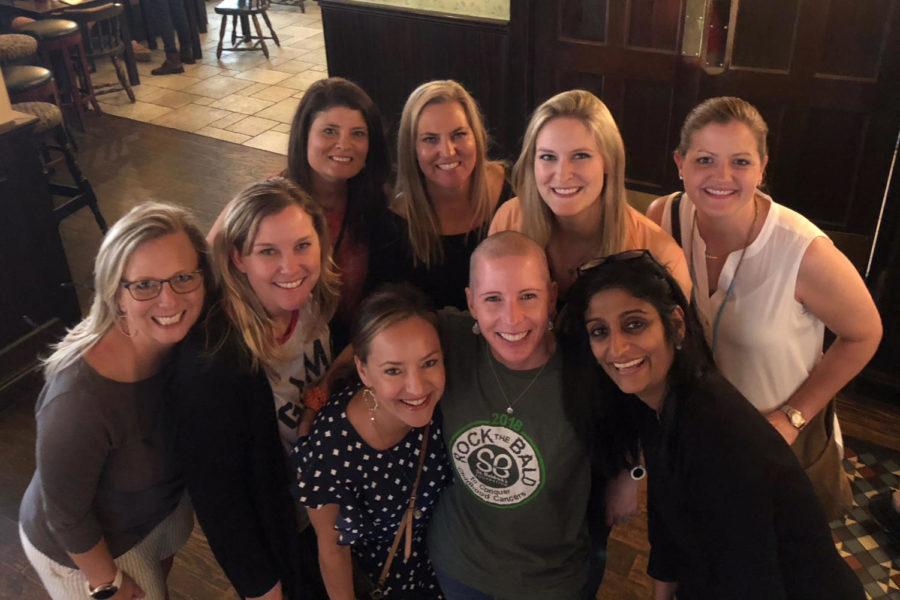 As the clock struck 11:15 a.m, Lovejoy mom of two Julie Boardman made her way to the corner of Trinity Hall Irish Pub, sat down in her chair on the elevated stage, and looked down at her friends and family surrounding her.
"OK, who's going to give $20 to Julie to shave off each ponytail?" the MC announced as Julie's hair, divided into who-knows-how-many ponytails, fell piece by piece onto the pub's dark floor.
Ten minutes of cheering, laughing, and nearly crying later, Julie was bald and ready to donate nearly $10,000, collected after a month of fundraising to help cure children's cancer.
"I'd always wanted to do it, but I was always too chicken to do it," Julie said. "I'm not sure why this year was the year. I just pulled the trigger and decided to do it."
On Saturday, March 24, Julie "braved the shave," at Trinity Hall Irish Pub in Mockingbird Station as part of the St. Baldrick's Foundation annual fundraising event to raise money for children's cancer research. Although Julie gave up her locks that Saturday, her journey toward supporting cancer research started more than a month earlier when she started collecting donations.
"I asked my community and friends here to go on the [St. Baldrick's] website and [they donated] and word spread," Julie said. "My goal was $10,000, and I almost made it, I got $9,400, so it was a big deal."
One month later, the day that Julie had been "too chicken" to face for years had come. Julie doesn't have a personal experience with cancer, but said as a mother she would feel devastated if children's cancer were to impact her family.
"It just was an opportunity for me to give back," Julie said. "Even though I have a healthy family, there are lots of others who don't, and as a parent I can't imagine going through something like that."
Julie's husband, Craig Boardman, has shaved his head for the event since 2007 and was Julie's biggest supporter during the fundraising and haircutting process.
"Well, of course my husband was very supportive," Julie said. "If he was a little suspect about what I'd look like after [the shave,] he never voiced it or mentioned it, so if he was he kept that quiet."
Craig said he feels Julie raised awareness for charities that many people don't realize are out there.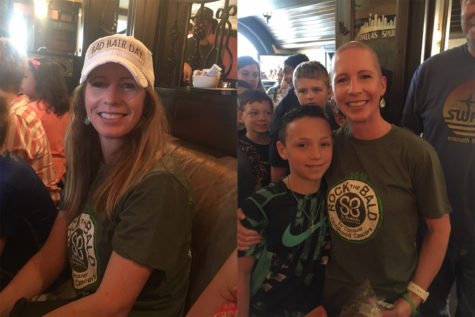 "I think everyone is aware of the American Cancer Society, but not everyone knows of St. Baldrick's focusing on kids' [cancer]," Craig said. "I hope she has inspired other women to help raise money and awareness. It really is a great conversation starter to raise awareness when you go from long hair to bald in just a few minutes."
Although her husband was on board with the idea, Julie's sons Reilly and Reid, in fifth and third grade at Sloan Creek and Hart respectively, were suspicious that their mom might be a "different person" without her hair.
"They're just little, and they were a little not sure about it, especially my little one," Julie said. "They initially did not want me to do it, and I explained to them why I'm doing it, and they felt better about it. They don't have experience with kids with cancer or really any sick people, so I think that's the root of why they were so concerned."
Julie's friend and supporter Beth Johnson said Julie is a role model for younger generations and hopes Julie "started a spark" in kids to take action against cancer.
"I wasn't too surprised when Julie told me what she planned to do," Beth said. "She is an amazing, caring, selfless individual. Her making that sacrifice for such a great cause seemed just the thing she was meant to do. As a woman, your hair is an important thing, so I definitely was initially concerned for her but I also knew that she would be beautiful. I only wish I was half as brave and selfless as Julie."
Despite her husband and her large support group across Lucas easing her nerves during the event, Julie "rightfully was a little concerned" when her head was shaved. Despite hearing comments like "you're so brave" after the shave, Julie said she wants others to know she's not the brave one.
"I believe [the comments] a little bit, but the brave ones are the kids and the doctors and researchers that help them," Julie said. "I would be remiss if I didn't remind people that it's not about me, it's about raising funds for these kids and this foundation."
Julie said she doesn't see any reason why not to participate in the event again, and said the event is something especially important for women to try.
"I think if it's in their heart to do it, sure," Julie said. "It is something [difficult,] especially for women, and it's hard for some men too. Hair's important in our society, and it's almost something that you can hide behind sometimes. So without it, there's nothing to hide anything, any blemish, or anything you might get on your face. For women, that's hard. It's just the scariness of the unknown, I think."
About the Contributor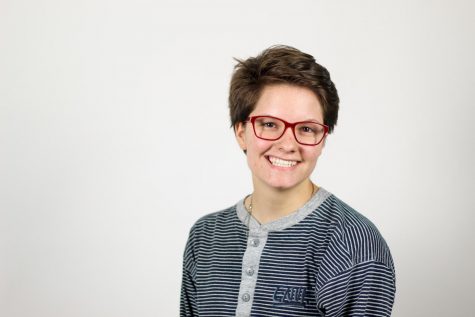 Kelsey Carroll, Section Editor
Senior Kelsey Carroll has never owned a dog or a cat, but she's the proud caretaker of two mini cacti living their life on her windowsill, and she thinks...