Academy anatomy
Joe Cross breaks down his 2018 Oscars predictions
TRL Audio Extra – 2018 "Cr-Oscar" Preview

The annual Academy Awards take place on Sunday, and this year's batch of nominated films is more interesting than ever. After a big effort by the Academy to increase the diversity in what they recognize, there are more truly great films nominated this year than in any year in recent memory, and even the not-so-great ones have promoted interesting and thoughtful discussion. I broke down the night's major races below.
Best Picture:

What Will Win: "The Shape of Water" or "Three Billboards Outside Ebbing, Missouri"
These films are the weirdest Oscar frontrunners in some time, not because the movies themselves are strange, but because they're seemingly not very well-liked by many in the film community. Nearly every film critic agrees "Water" ranks toward the bottom of the pack, while "Billboards" has had its extremely vocal detractors (including myself) since December. Timely, inoffensive, and with a simple but important moral, Guillermo Del Toro's adult fairytale "The Shape of Water" is the exact sort of movie that the Academy would typically award Best Picture. Meanwhile, "Three Billboards" talks about important issues– feminism, police brutality, and racism– but handles them with such little grace and reverence that it's hard to fully support anything it has to say. "Shape of Water" is hardly a bad film, and I quite liked it, but in the same year that other Best Picture nominees like "Get Out" gave us similarly bold political sci-fi and "Phantom Thread" gave us an equally lush and well-designed vision of the 1950s and told a bizarre love story, it's not the best choice either.
What Should Win: "Phantom Thread"
The least seen but, in my opinion, certainly the best of the nominees, "Phantom Thread's" inevitable loss will be looked back at in embarrassment, the same way we as a society cringe at "Crash" beating "Brokeback Mountain." The film is a Hitchcockian thriller about desire and unconventional love under the guise of a typical Oscars period drama. It's a smart, deliberate twist on the oft-repeated "tortured male artist abuses his love" narrative, intentionally criticizing the artist at its center for his abusive tendencies and his spoiled, child-like behavior, and sympathizes with the abused woman who refuses to accept her status as a canvas for the artist to paint on without some conditions of her own. It's truly a film that has everything: incredible acting, delightfully scathing one-liners, a great score, beautiful set design, costumes, and cinematography, and equal doses of horror and humor.
Best Director:
Who Will Win: Jordan Peele, "Get Out" or Guillermo del Toro, "The Shape of Water"
The Best Director race is probably the most competitive of all. All of the nominated directors are well deserving, even though one is nominated for a film I personally disliked but still found technically impressive (Christopher Nolan's "Dunkirk"). But Nolan's film is too emotionally distant and Paul Thomas Anderson's film "Phantom Thread," despite my love of it, is too strange to win the award, in my opinion. Regardless of whether you enjoyed the films, it's hard to deny that "Get Out" and "The Shape of Water" are distinctive, truly original works that couldn't have been made by anyone else.
Who Should Win: Greta Gerwig, "Lady Bird" or Paul Thomas Anderson, "Phantom Thread"
Looking at all the recent winners of the award for Best Director, a certain trend stands out. All of the winning films are stylish and flashy, and often have elaborate visual effects or highly choreographed action or musical sequences. The award usually goes to the nominee who's done the "most" direction, which is why Greta Gerwig winning would be a refreshing change of pace. "Lady Bird" has no impressive CGI or large set pieces, but a lesser director couldn't have made a film this memorable. Meanwhile, Paul Thomas Anderson is arguably the finest filmmaker working today, having never made an outright bad film and only a few that are less than a masterpiece, which is why it seems impossible that he's never won Best Director. Anderson's legendary status and previous snubs are not to detract from the fact that "Phantom Thread" is an extraordinarily well-directed film, and arguably his best yet. As his own cinematographer for the first time, the film looks stunning, and every element of the film combines to create an experience unlike any other.
Best Actor:
Who Will Win: Gary Oldman, "Darkest Hour"
Gary Oldman is the classic, safe-bet choice for this award. An actor with a long, illustrious career and no Oscar to date is the perfect contender, and his performance as Winston Churchill is emblematic of the typical winners of Best Actor. Of course, this award isn't quite Oldman's yet, given the increasing hype behind "Phantom Thread" and the rumors that Daniel Day-Lewis' nominated performance in the film will be his last.
Who Should Win: Daniel Kaluuya, "Get Out"
Daniel Kaluuya's performance is the subtle, reserved kind the Academy rarely rewards. It's one that's almost entirely internal, focused on nervous glances and gestures instead of big, powerful speeches. He never has an "Oscar monologue," or even very much dialogue to begin with. But he sells the terror of feeling unwelcome perfectly, and he's the emotional core that keeps the movie from ever feeling too unbelievable despite its premise.
Best Actress:
Who Will Win: Frances McDormand, "Three Billboards Outside Ebbing, Missouri"
I'll be perfectly honest: I thought "Three Billboards" was one of the worst films of the year. It was a tone-deaf, borderline incoherent, and shockingly mean film. And Frances McDormand, as great as she is, and though her acting is one of the only redeeming parts of the movie, shouldn't win an Oscar for a film like this. Her character is incredibly one-note and underdeveloped. We never once see her struggle to cope with her pain in a way that's not incredibly contrived (i.e. giving a speech that name-drops Doritos to a CGI deer), and it's clear that writer Martin McDonagh doesn't understand the pain this character feels. That being said, McDormand does the most she can with the weak material.
Who Should Win: Saoirse Ronan, "Lady Bird"
"Lady Bird" is such a charming and wholesome film, and it would be hard to picture anyone else in the film's titular role other than Saoirse Ronan. Her line delivery and comedic timing are consistently phenomenal, and her performance never seems unrealistic. She isn't afraid to show her character's flaws, and Ronan manages to make this character seem like someone you know.
Who Should've Been Nominated: Vicky Krieps, "Phantom Thread"
Vicky Krieps' haunting performance turns "Phantom Thread" from a dark comedy into something resembling a horror movie. As Alma Elson, the love interest of our favorite fussy fashion designer Reynolds Woodcock, her performance is equal parts hilarious and terrifying. Every glance at her beloved is unforgettable, and she manages to out-act Daniel Day-Lewis on his A-game.
Best Supporting Actor:
Who Will (and Should) Win: Willem Dafoe, "The Florida Project"
Willem Dafoe is an actor known for playing shifty, unsettling characters you might find hanging around a dark alleyway, but his performance in "The Florida Project" is the exact opposite. His character Bobby, the manager of a rundown motel outside Disney World, is warm, forgiving, and all around decent. It's a sweet and moving performance from the last person you'd expect to give one. "The Florida Project" was my favorite film of 2017, and Dafoe is the heart of the movie.
Who Should've Been Nominated: Adam Driver or Daniel Craig, "Logan Lucky"
I was shocked by how delightful I found the Southern crime caper "Logan Lucky," and its hilarious performances are a big part of the reason why I enjoyed it so much. Adam Driver is terrific in an uncharacteristically quiet role as a perpetually bummed-out war vet with one arm. Daniel Craig is equally delightful in a rare comedic turn as a local legend bank-robber, and one hopes that he'll do more films in this vein instead of depending on doing Bond films forever. In a year where plenty of bleak films and performances are nominated, it would've been nice to nominate a totally pleasant, refreshingly comedic one.
Best Supporting Actress:
Who Will (and Should) Win: Laurie Metcalf, "Lady Bird"
Like Dafoe's turn in "The Florida Project," Laurie Metcalf gives an extremely empathetic and human performance in "Lady Bird." For most of her career, Metcalf has worked in theatre and television, and her turn in Greta Gerwig's coming-of-age drama has finally earned her the recognition she deserves. Like the titular character, she's occasionally rude and brutally honest, but deep down, you can see that she truly wants the best for her daughter and cares about her sincerely.
Best Cinematography:
Who Will (And Should) Win: Roger Deakins, "Blade Runner 2049"
Roger Deakins is considered by many to be the greatest cinematographer of all time, and it's easy to see why. His collaborations with the Coen brothers usually result in some of the most beautiful looking modern films, and it's truly astonishing that he hasn't won an Oscar for his work yet. His work on "Blade Runner 2049" isn't his best, but in an uncharacteristically weak year for cinematography nominations, it's his best chance to finally get an award he should've won ten years ago for "The Assassination of Jesse James By The Coward Robert Ford."
Who Should've Been Nominated: Sean Price Williams, "Good Time"
The movie itself may be a throwback to the colorful, gritty New York crime capers of the '70s like "Mean Streets" and "Dog Day Afternoon," but nothing else, including those films, looks quite like "Good Time." Using handheld camerawork and vibrant neon imagery, it's incredibly immersive and is one of the most visually stunning crime thrillers in years.
Best Original Score:
Who Will (and Should) Win: Jonny Greenwood, "Phantom Thread"
Music has always been an important component of Paul Thomas Anderson's films, from the bombastic, menacing score of "There Will Be Blood" to Aimee Mann's lonely ballads in "Magnolia." A period drama like "Thread" would usually rely entirely on classical pieces for its score, but it never does that, instead opening with the most memorable recurring movie theme in recent years. The score is a lot like the film it accompanies: luscious, romantic, and just slightly eerie.
Best Original Screenplay:
Who Will Win: "Three Billboards outside Ebbing, Missouri"
I'm not going to pretend to understand why this is the frontrunner for the award, as its writing is often terrible and sometimes truly baffling. It's almost like a Coen brothers screenplay written by an AI generator, and lacking the wit, the surprise, and the memorability of their works. That this is being compared to "Manchester by The Sea," last year's winner and one of my favorite films of 2016, is truly outrageous.
Who Should Win: Greta Gerwig, "Lady Bird"
Very few films resonate with all who see them, but "Lady Bird" is certainly one of them, and its brilliant screenplay is part of the reason why. So many well-developed characters from all walks of life make memorable impressions in the film, and Gerwig's characters are human. They're not perfect, but they're doing their best. It's also a remarkably funny film and a sad one when it needs to be.
Leave a Comment
About the Writer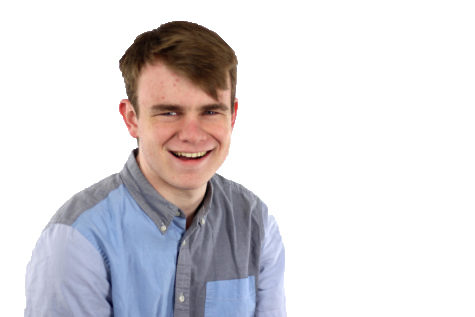 Joe Cross, TRL Reporter
Joe Cross is a senior at Lovejoy High School, a coffee enthusiast, and, most importantly, a film and music obsessive. He can often be spotted wandering...