The most interesting woman on campus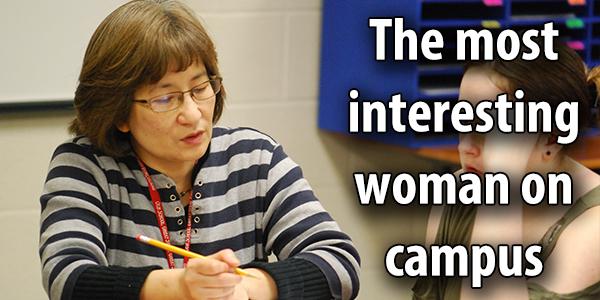 On top of her colorful past, Instructional Aid Van Tran also boasts a tasteful hobby. The Red Ledger's Ian Raybon brings you the story of the campus cake lady in the video above.
"The war ended, and the Americans and also the South Vietnamese of that time were worried that there was going to be a bloodbath. And a lot of people fled Vietnam. I was one of those people."
A lot has changed for campus instructional aide Van Tran since that day in 1975 when as a 12 year-old girl she and her younger brother flew out from Vietnam. They traveled to the Philippines, then from the Philippines to Guam, Guam to California and then to Utah, where her sister was living. For two months, Tran lived with a family in Utah before being reunited with her parents.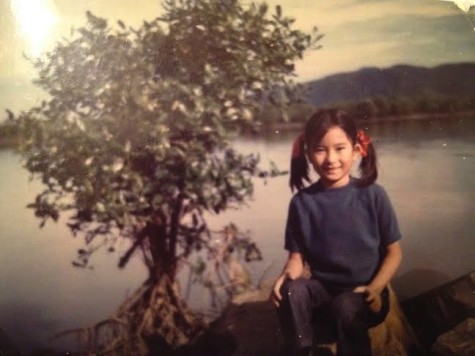 "I was fortunate in that we flew out instead of being one of those boat people," Tran said. "A lot of them died and didn't make it. I can't remember missing my parents because we were so busy all the time. There was not a community of Vietnamese people or anything. There wasn't a Vietnamese grocery store, any of that, you just immerse yourself into the culture."
The change from Vietnam to Utah was sudden for Tran, who knew very little English, but her young age gave her an advantage over her parents.
"It was scary, but it's not something that's very difficult for kids," Tran said. "I went to school, and hearing it for eight hours a day, it's very easy to learn the language. Everything was strictly English. So it's actually easy for anyone to learn a language that way. It's very easy for a child to adapt to any kind of situation, no matter how hard, it's always easier for a child rather than an adult."
Despite the ease with which Tran adjusted to most new aspects of her life, she often was afraid to speak to others if she did not know how to say something.
"I remember when I first came over I was still very, very scared; just because I didn't speak the language," Tran said. "When my mom asked me to go buy a loaf of bread, I remember that very distinctively, because I remember being very very scared. I kept asking her, what if they ask me blah blah blah? And she said, just hand them the loaf of bread and give them the money, that's all there is. I was so scared that they might say something to me. You know it should be no big deal, what are they going to do, right? But I remember just being very scared about it."

Even with these challenges, Tran continued to learn and adapt to her situation.

"It was a situation of either sink or swim," Tran said. "Learn to speak English or don't do well in school. I remember having to take a history test, and I can remember 10 pages of answers and questions, in English, memorized, without understanding it. Because they gave us the questions ahead of time, and that's what I did."

[sidebar title="Van Tran's journey by the miles" align="left"]

Vietnam to Manila, Philippines: 1715 miles

Philippines to Hagåtña, Guam: 1,593 miles

Guam to Sacramento, California: 5,835 miles

California to Salt Lake City, Utah: 650 miles

Total: 9793 miles

[/sidebar]

Tran moved to Texas her senior year, and after graduating she went to UT, where she started in electrical engineering like her father and brother, but later switched to music.

"I just kind of minored in engineering," Tran said. "I got my degree in music for piano and harp. When I was in Vietnam I went to the music conservatory there, and I studied piano until I was 12. When I came here I continued with it."

These days her music experience is mostly limited to helping her kids (junior Megan and sixth grader Ben), who both play an instrument.

Her family appreciates Tran's unique experiences.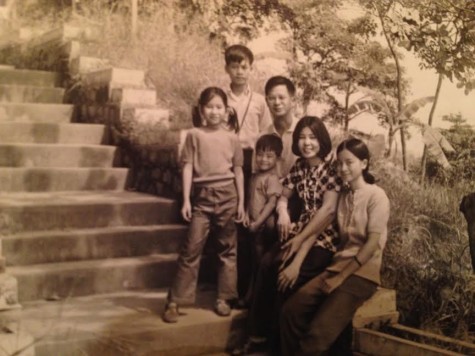 "It's pretty cool that she came from Vietnam," Tran-Olmsted said. "She always has a lot of good stories. And in history class, we'll be talking about Vietnam, and it's cool because I have a personal connection to it, that my mom lived there before she came here."
That journey from Vietnam to Texas was filled with lots of challenges and lessons. But in the long run, Tran learned not only to swim, but to thrive.
"A third world country versus a Western country, two totally different things," Tran said. "But like I said, I adapted very quickly, I learned how to speak the language and so it wasn't scary anymore. It was a situation where you either sink or swim, you have to learn how to do it and I did."
Leave a Comment