Big Tex burns down

Big Tex has served as an icon for the Texas State Fair for the last 60 years, since it's beginnings in 1952. That is, until this morning, when Big Tex went up in flames and was completely destroyed in around five minutes, leaving only a metal skeleton behind. The police and fire department arrived on the scene, and while an official investigation has not occurred yet, the probable cause of the fire is an electrical short.
"There's obviously some electronics inside of Big Tex that leads to the ability for his mouth to move when he speaks," vice president of marketing for the State Fair Mitchell Glieber said. "I believe there was an electrical short, but that hasn't been confirmed or investigated."
There were no injuries reported, and the State Fair is to remain open for now, although the area around Big Tex will be closed off.
"It's actually sad, I was going to go to the State Fair tomorrow," senior Katy Matthews said. "It won't really change my decision that Big Tex isn't there though. It'll be okay."
Others on campus are a bit more affected by the destruction of Big Tex.
"It's devastating!" English teacher Katherine Harrison said. "Big Tex was a symbol of the Texas spirit to never say die."
About the Writer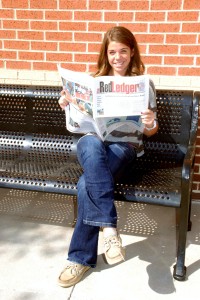 Ginger Hervey, Editor-in-chief
Ginger Hervey cried on her eleventh birthday when she didn't get a Hogwarts letter. If there was an Olympic event for sitting around in sweatpants, eating...