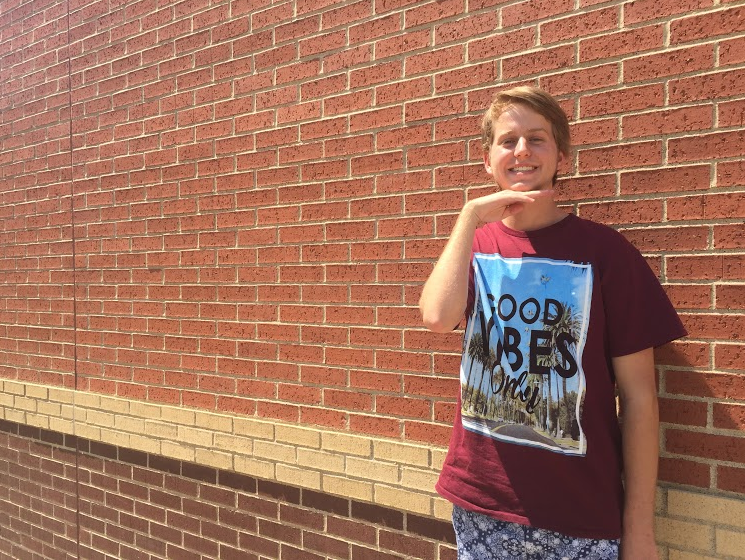 Matthew Norwood is a school senior and newspaper sophomore. He keeps himself busy, and likes to do other things to give himself an idea of what he should be looking out for while on the newspaper staff. Extracurriculars include debate, quiz bowl, and history bowl, and he's been in both football and orchestra during prior years of high school.
When he isn't at school, Matthew is probably out adventuring with friends. He has a knack for urban exploration, especially enjoying abandoned places. He may also be at home with his three cats or two dogs, or simply eating.
Matthew writes mostly opinions, which are generally about random things which occur in his life or the beliefs that he has. Most of these beliefs come from debate, as he has to deal with a lot of different philosophies while studying for tournaments. He would love to branch out and do new things, as he thinks he can do a lot for the newspaper and improve from his impact last year. Photography would be an option, or even something such as features or sports, basically anywhere you can put him to work and make him useful.
On his last year, Matthew has a lot to do. College applications are not the most fun thing in the world, and for whatever reason he is taking more AP classes now than in junior year, with six to tally. Nevertheless, Matthew is happy to be a part of the staff and hopes he can do his best for its already esteemed credibility.
Matthew Norwood, Staff Writer
May 12, 2016

Column: Before I came to high school

(Story)

Apr 21, 2016

Students compete against nation in History Bowl Championship

(Media)

Apr 11, 2016
Mar 29, 2016

Across the ocean to small town Texas

(Story)

Mar 01, 2016

Answering the call

(Story)

Feb 19, 2016

Studying with a scientist

(Story)

Jan 11, 2016

Column: Wealth is a privilege, not an excuse

(Story)

Dec 14, 2015
Dec 07, 2015

Coat drive to be held until Dec. 11

(Story)

Nov 17, 2015
Nov 12, 2015
Oct 21, 2015

A scare on the square

(Story)

Oct 09, 2015

Senior project under the sea

(Story)

Oct 08, 2015

Lunch catering considers adding sushi to the menu

(Story)

Oct 05, 2015

The art of the fight

(Story)

Sep 18, 2015

Trumping the rally

(Story)

Jul 29, 2015

The intuition behind instruments

(Story)

May 15, 2015

Shorten the school year

(Story)

May 07, 2015

Summer camps reduce summer boredom

(Story)

Apr 21, 2015

Don't stress the AP test

(Story)

Apr 16, 2015

Keep the red light cameras

(Story)

Apr 03, 2015

Grades can only get you so far

(Story)

Apr 01, 2015

The importance of keeping education consistent

(Story)

Mar 27, 2015

More money may lead to lack of world awareness

(Story)

Mar 03, 2015

The realities of the gifted and talented program

(Story)

Feb 25, 2015

Getting a head start on senior project

(Media)

Feb 18, 2015

Making connections for a better future

(Story)

Jan 16, 2015

Fool's Gold: death, luck, and happiness

(Story)

Jan 09, 2015

Fatigue isn't just physical sweat

(Story)

Dec 19, 2014

The importance of family

(Story)

Dec 18, 2014

A look at the justice system

(Story)

Dec 08, 2014

Life without a phone

(Story)

Nov 21, 2014

The freedom of feeling

(Story)

Nov 10, 2014

The best kind of teacher

(Story)

Nov 05, 2014

A love for spontaneity

(Story)

Oct 23, 2014

A strange addiction

(Story)

Oct 10, 2014

A stagnant society

(Story)

Oct 07, 2014
Sep 26, 2014

Fashion makes the man

(Story)

Sep 19, 2014

I still love H.E.R.

(Story)

Sep 17, 2014

Stacy Road Sonic set to reopen in October

(Story)

Sep 11, 2014

Opinion: the faults of political correctness

(Story)

Aug 28, 2014

Debate season takes off with tournament

(Story)