The art of the fight
Junior Hannah Lawson competes nationally in Epee fencing
Hang on for a minute...we're trying to find some more stories you might like.
The air is pierced with a clash. Swords ting and ping in the center of a large mat. Two warriors dressed like bee-catchers fight in the center of the room. However, there is no animosity in the place, simply a practice of skill.
Here, junior Hannah Lawson is sparring with an opponent. She's doing the same thing now that she's done since before she turned 12, only back then she wasn't competing for a spot on the Olympic fencing team. Now, she won't settle for anything less.
Lawson was born in England, where she grew up until she moved to America just a few years ago.
"In England, the school offered club once a week, and it was just fun with friends," Lawson said.
When she moved, she felt she needed to play a sport like everyone else, since America places an emphasis on youth participating in sports.
At first it was simply a hobby, something she did to pass the time and enjoy an activity with her friends. Five years later, she's still there, still practicing after all her friends had gone.
"I still do it because of the challenge it gives me," said Lawson. "It's a physical chess game. It's 90 percent mental. Nice to have a competitive hobby."
Lawson participates in Epee, a section of fencing which uses smaller swords, and where competitors score points by striking anywhere on the body, not just the torso. The technicalities of fencing are complicated, and not always easy to grasp at first, as Lawson's friend, senior Megan Gordon, discovered.
"I figured it was like pirate fencing, just thrashing at each other," Gordon said. "I didn't know it was actually slow and technical until I watched a round."
Her time in fencing has given her more than just a hobby, as it's opened up new experiences and channels of opportunity for her future. Lawson has been to Austria, France, England, Finland, and most of the US touring with her fencing outfit. At her level, she fences with the world's best, and has an opportunity to take part in these international tournaments, the highest of which can yield monetary or scholarship rewards.
The world of fencing is a competitive one, filled with high-level performance. Lawson notes that there is a "national and international rank system, based on points by success at certain tournaments." These tournaments have given her the opportunity to meet very successful fencers, including former Olympic competitors, primarily because she fences above her age group.
Lawson's end goal is the 2020 Olympics, which she described as "a pay-off of all that work and sacrifice and money." This means she will be fencing through college, until she gets her shot at the big-stage.
"I've fenced with Hannah for years, and she has a real chance at making the olympics," said senior fencer Jost Luebbe, who fences at Lawson's club. "She is as good as anyone at our club has ever seen."
Her fencing career does more than just give her trophies and medals.
"Some colleges in D1 fencing can give up to full-ride scholarships for the activity. Columbia, Princeton, Harvard, Duke, and Northwestern all stress fencing," Lawson said.
This is as good of any incentive as any, and at her level, Lawson can take full advantage. Even with all of these benefits, she said her parents support it only "as long as I'm happy and for nothing else."
Five years is a long time for something she puts work into many times a week. When anyone prepares this hard for something for this long, sometimes it can take on a life of itself. The work may not be worth the payoff, so success is necessary to justify all of the time and money that's put into such an experience. Lawson clarifies that her success makes no difference to her attitude towards her experiences.
It's been a life-changing experience to be able to go through, and it seems with the attitude it's instilled in Lawson, she's capable of taking a stab at anything she puts her mind to. "I've learned so much from the sport and the things it gives, like commitment and an understanding of hard work. As with any sport there have been ebbs and flows, but it's been worth it." said Lawson, pondering her time in fencing," Lawson said in finale.
About the Writer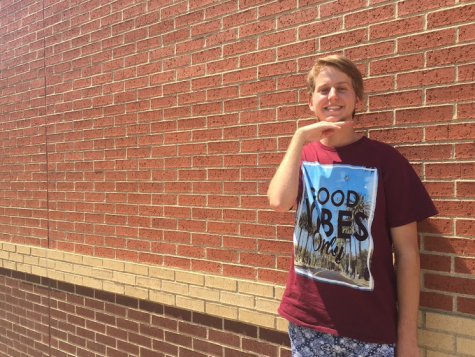 Matthew Norwood, Staff Writer
Matthew Norwood is a school senior and newspaper sophomore. He keeps himself busy, and likes to do other things to give himself an idea of what he should...