Column: The new wave of buying athletes
Being paid to play high school or even collegiate sports was once a lifelong dream. Until recently, the ultimate goal was always to make it to the pros and earn the "big money." Recent changes to the structure of compensation for college athletes have altered the game. It is now legal for college athletes to earn money using their name, image and likeness (NIL). For NCAA athletes, this was and still is, a significant change, with drawbacks that outweigh the benefits. 
Whether or not a student participates in athletics, the main focus of college choice is receiving a quality education. Top high school athletes no longer choose their school based on quality or if it's a perfect fit but on who is going to put the most money in their pocket. Colleges have always competed for top athletes for decades. They lure prospects with scholarship promises, state-of-the-art facilities, coach-to-player relationships and many other perks. However, the winds have shifted with the passing of NIL. Top high school athletes aged 17 and 18 years old are being enticed by six-figure incentive packages to commit to schools based on their athletic abilities. There is no problem with a sponsorship for the athlete. For example, if an athlete is getting sponsored by Nike or Redbull, it's a great accomplishment and is totally okay, but being paid to attend a school or transfer however is not. For example, five-star quarterback Nico Iamaleava committed to Tennessee over schools like Alabama and Georgia. According to Andrew Olson of Saturday Down South, Nico "signed a deal to be compensated $8 million for his name, image and likeness." It was questioned: why Tennessee over historic programs and schools like USC and UCLA that are close to home? That NIL deal answered that question. Though we may never know why he chose Tennessee over other schools, that agreement seemed to be a big player in his recruitment process. This can give schools with bigger donors and budgets advantages over others due to the fact they can offer these deals.
There were more people in the transfer portal this off-season than ever before causing mass confusion and chaos. A total of 4,084 Division I football players entered the transfer portal in 2021, which is a big jump from the 2,868 in 2020. Top football recruit Quinn Ewers exemplifies how money has a direct correlation with the school of choice. Ewers chose to forego his senior year of high school and enroll at Ohio State University in the fall of 2021. While at Ohio State, Ewers signed a deal with "GT Sports Marketing" for $1.4 million according to Tom VanHaaren of ESPN. Quinn ended up leaving Ohio State because he was "homesick" and how he "grew up always watching the Longhorns play, wanted to be in that burnt orange" according to Yahoo Sports. So he then decided to transfer to the University of Texas. They made him an offer to transfer and commit to UT for the upcoming season which is now the current season along with more opportunities for NIL deals including a possible partnership with Aston Martin, which turned out to be true. Ewers is off to an impressive start this season as Texas's starting QB completing 67% of his passes and throwing for nine touchdowns. This demonstrates how NIL is changing college sports. Quinn changed schools for financial reasons and opportunities and that is something we have not seen in the past. This does not only affect athletics but the schools as a whole. 
NIL, according to some, is beneficial for players who never play a game because it gives them money when they graduate from college to use before entering the workforce. Simply said, that is untrue. The best players at each school are the ones receiving NIL agreements. The athletes who aren't as prominent receive little to no NIL money since they aren't the "star player" which can lead to a ruckus between players in the locker room. The relentless pursuit of NIL deals is only shifting players' attention away from what really matters, which according to The Stadium Review, "The NCAA may view NIL as bad because they view college athletes as student-athletes and feel that education should be the players' priority, not making money and being in commercials." Athletes profiting off their name image and likeness is all very new, only time will tell if this will benefit college sports or make things take a turn for the worse. 
Leave a Comment
About the Contributor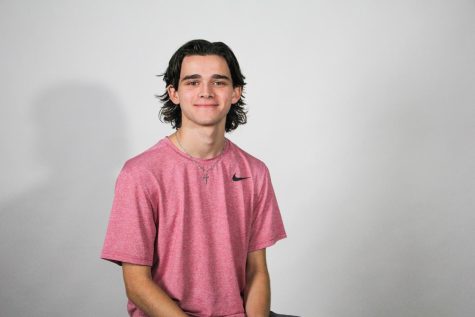 Nicholas Spooner, Staff Writer
Senior Nick Spooner enters his first year on The Red Ledger staff writing sports. Spooner is involved in PALS and plays lacrosse for the high school. Outside...