Review: Joy comes at a cost
A new french pastry shop specializing in macarons opened up in Watters Creek this summer. The shop is called Joy Macarons, and although they are new to the Allen area, Joy has two other locations closer to the city of Dallas. 
When I heard about this new dessert spot, I was a little bit skeptical if it could live up to the hype. Many of my friends had raved about the delicious flavors of Joy Macaron, and I honestly had a hard time believing that a macaron could be good. Needless to say, I am not usually a fan. They are annoyingly small, flaky and lacking any sort of flavor. Regardless, I was determined to find out if Joy Macarons was worth it.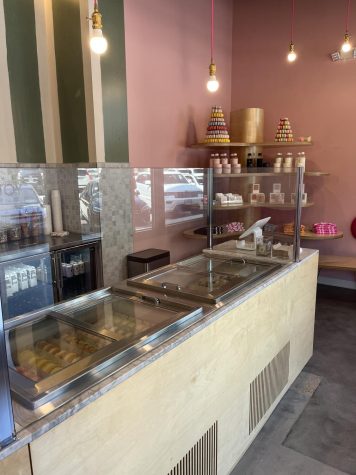 When I arrived at Joy, I was greeted by bright pink walls, led lights and rows of perfectly aligned pastel cookies. But if I have learned anything from reviewing restaurants, it is that decorations aren't everything. The employee explained each flavor, and most of them sounded pretty basic. They had classics like chocolate, pistachio and almond, but also had a few fragrant and floral ones: roseberry and honey with lavender. 
One of the big selling points of Joy Macarons is they attempt to keep their menu fresh and rotating with seasonal new flavors. When I was there, the seasonal macarons were State Fair of Texas themed with flavors like BigTex Sheet Cake, caramel apple, maple bacon and cotton candy. 
For one individual macaron the price was $2.95, while a pack of 6 came out to $14.95. Understandingly, macarons can be considered a "fancier" dessert, but be warned: this isn't some casual dessert shop. If I just wanted a quick bite or a casual dessert, this place would not even cross my mind. However, I still wanted to see if the price was worth the quality. 
I got a 6 pack of macarons with pistachio, Italian creme, BigTex Sheet Cake, salted caramel, peanut butter and jelly and chocolate hazelnut. Below are my reviews of the individual macarons: 
Pistachio: The pistachio macaron had a surprisingly rich buttercream that had an overwhelming taste of vanilla marshmallow above anything else. I would give it a 6/10 because you could hardly taste the pistachio. 
Italian creme: Italian creme macaron had a cream cheese frosting with toasted walnuts. Although hard to mess up, this macaron was deliciously light and airy. I would give it a 8/10. 
BigTex Sheet Cake: This macaron was an eye catcher because of the airbrushed BigTex design. Inside it is layered with chocolate and creme but tastes remarkably similar to a sheet cake. I would give it a 7/10. 
Salted Caramel: This macaron had a rich caramel with a hint of sea salt. I would give it a 9/10. 
Peanut Butter and Jelly: My favorite of the macarons, this one featured two layers of salty peanut butter mixed with sweet jelly. I would give this one a 10/10. 
Chocolate Hazelnut: Ending on a bad note, the chocolate hazelnut was just so-so. It lacked the taste of hazelnut and was a pretty basic macaron. Compared to the other gourmet macarons, I would give this one a 4/10 and recommend you skip it.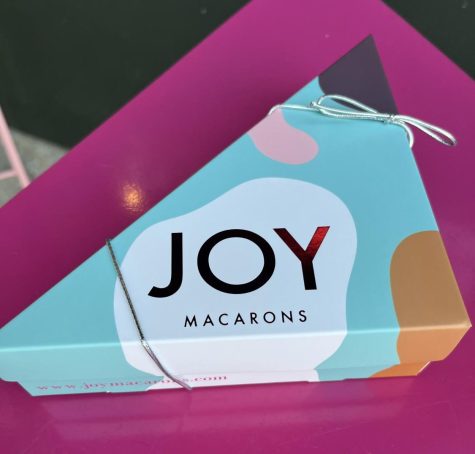 Overall, Joy Macarons provides customers with an "Instagramable" experience complete with sweet French concoctions. I didn't get to try their ice cream sandwiches, but they looked delicious. If you are looking for a special treat with a rather expensive price tag, Joy Macarons is for you. Their cute packaging and display makes it a perfect gift. The macarons themselves were super sweet but made with gluten-free, homemade ingredients. I would give Joy Macarons a 7/10, and would recommend that you try it and see for yourself if you think Joy is worth the cost.
Leave a Comment
About the Contributor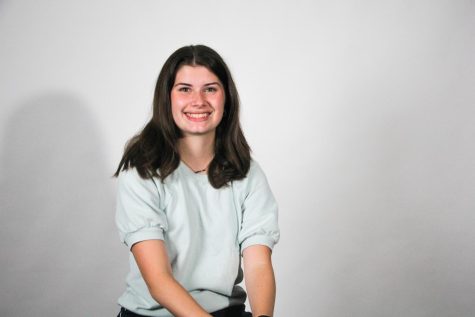 Eleanor Koehn, Section Editor
Although Eleanor Koehn is a senior, this is only her second year on staff and her first as Arts and Entertainment Editor. When she is not reviewing and/or...