Review: Amazon Prime's 'All The Old Knives' is thrilling, unique
Pairing tension and relaxed conversations, Amazon Prime's "All The Old Knives" adds a unique twist to the average CIA or side movie. The film was released on April 8 directly onto the streaming service.
The movie follows veteran CIA operative Henry Pelham (Chris Pine) as he revisits one of the most tragic cases he has ever worked on. The case, named Flight 127, was a terrorist attack that led to the death of 100 people. Though this happened eight years ago at the time of the movie, the case was reopened due to a belief that a mole in the CIA was working for the terrorist. Pelham must interview his former coworker and former girlfriend Celia Harrison (Thandiwe Newton) who is thought to have information about the traitor. 
The movie is split between the 2012 and 2020 making time jumps as the story is retold. The combination of interviews and the anxiety-ridden situation that happened in the past will keep viewers interested throughout the film. The inner conflict that Pelham faces, as he tries to find evidence that his past love was the reason so many people died adds more to the film than any unnecessary fight scenes could.
Pine and Newton do a wonderful job of playing their roles. While Pine is on screen more often than Newton, they equally add to the film. For the most part, the film does not have extra or unnecessary scenes, as they all lead up to finding the mole.
The twist at the end was very unexpected and executed well. Harrison slowly takes control of the interrogation and details the way that Pelham himself could have been the mole. It then goes through exactly what he did, and it explains why Harrison had left the CIA after the case was closed. She did not want to turn Pelham in as the mole, but felt it was her duty to leave her job if she could not do so. At this point, Pelham begins to understand the situation in its entirety and the cinematography shows every inch of pain these two characters are going through. 
Overall, the film exceeds expectations for a streaming only release, and it combines thriller-like tensions with a CIA story that makes the time move quickly. While it definitely isn't for anyone wanting a happy or uplifting movie, it fits perfectly into its genre.
Rating: B
View Comments(1)
About the Contributor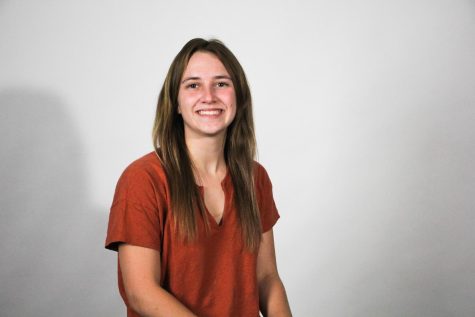 Audrey McCaffity, Section Editor
Beginning her fourth and final year on staff, Audrey McCaffity is more than excited to take on the role of Community Editor. The past four years have been...