Review: 'Fantastic Beasts: The Secrets of Dumbledore' takes series to the next level
In an attempt to keep the "Wizarding World of Harry Potter" alive, the Fantastic Beasts series showcases a combination of new and old characters before the original "Harry Potter" series takes place. "The Secrets of Dumbledore" premiered in theaters on April 15, and took over the box office rankings for the weekend.
This film is the third in this subseries of "Harry Potter," and focuses on Dumbledore's 
(Jude Law) past and the wizards fight with Grindelwald (Mads Mikkelsen). In previous films, Johnny Depp has the role of Grindelwald, however, Mikkelsen does an excellent job in this role despite having to take over from another very well-known actor. 
Grindelwald is an evil wizard who wants to destroy the muggle world, and at one point makes a blood pact with Dumbledore to do so. This pact prevents Dumbledore from fighting him, so he assembles a team of wizards to do so for him. This brings the main character, Newt Scamander (Eddie Redmayne), and his other friends into the story for the remainder of the film.
The movie runs for a total of just under two and a half hours, but it does a great job of keeping the storyline. There is just the right proportion of action and comedy intertwined throughout the movie and you won't be tempted to peek at your phone for the movie's duration. Additionally, "Fantastic Beasts" brings back characters from the other films and seems more connected to the "Harry Potter" books than ever before. The quidditch and house cup references alone will make any fan of the books excited.
The actors in the film have strong chemistry, given that many have been working together since the original movie debuted. It is evident that they enjoy working together on these projects, and they all seem to play their individual roles very well. Dan Fogler plays Jacob Kowalski, a muggle who happens to be involved in the wizards' affairs. He is very important for the comedic relief in the film, but the underlying story of him building confidence throughout the series is a pleasant addition.
At this time, two more movies are set to come out for the series, and if they follow the formula, they should also be a success. It will be very interesting to see how many more ways the "fantastic beasts" in the movies can help to keep the wizarding world safe under the protection of Newt and his friends.
Overall, the movie is perfect for the average "Harry Potter" fan looking for more of the magical world, or anyone who wants a good movie to watch on a rainy day. 
Rating: A-
Leave a Comment
About the Contributor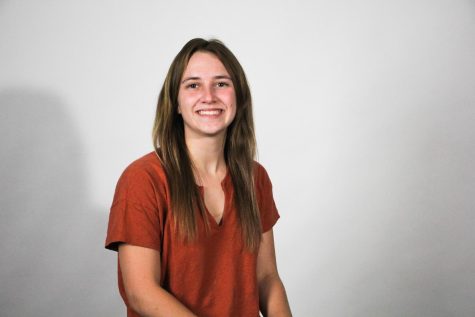 Audrey McCaffity, Section Editor
Beginning her fourth and final year on staff, Audrey McCaffity is more than excited to take on the role of Community Editor. The past four years have been...